Shopping Cart
Your Cart is Empty
There was an error with PayPal
Click here to try again
Thank you for your business!
You should be receiving an order confirmation from Paypal shortly.
Exit Shopping Cart
Shamanic Healer and Psychic Medium in Louisville, Kentucky
| | |
| --- | --- |
| Posted on November 10, 2014 at 5:42 PM | |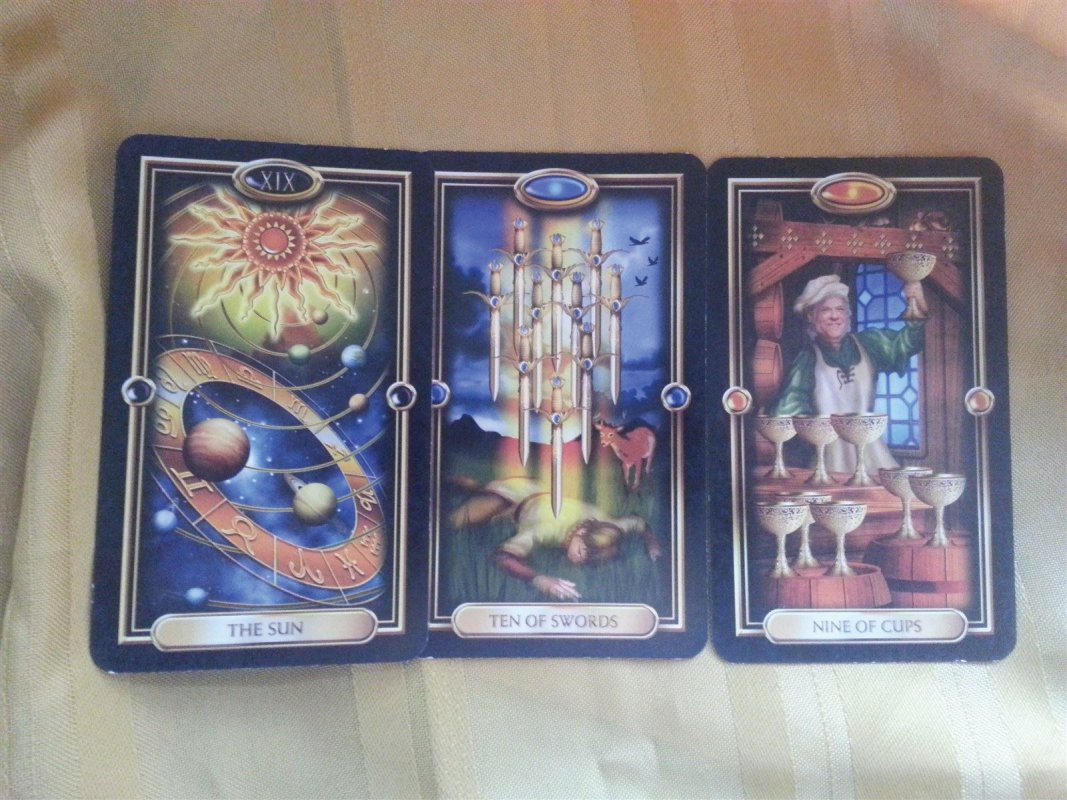 Good afternoon, folks, hope your weekend was a beautiful one!  Here is This week's forecast.  The beginning of the week mirrors how beautiful it truly is outside! It has been a truly spectacular autumn day!  The Cold is supposed to move into KY, so it has been a bittersweet day indeed!  When I see this card, I am reminded as well as the Rider Waite Deck picture, which as well features a child.  Enjoy this moment, this now...We always want to rush headlong into the next moment and the time is indeed now!  like childhood, life this moment will be a memory.  Humans spend far too much time desiring that next best thing when the next best thing is the now!  Gratitude for gifts is the message of The Sun Card in this particular draw.  Enjoy the journey with a grateful and joyful heart! 
We move into midweek and find ourselves deep into the Ten of Swords.  Things have gotten a little uphill, which tends to happen in November.  This is a warning to slow it down!  I can't help but notice that there is already Christmas advertisements out pushing the beginning of a shopping season.  This is creating a general fervor among the population to get things started before time runs out.  The energy in general is getting a little freaky lately! Don't get caught up in the whirlwind that others have created.  YOU are in complete control of your own destiny.  Like the deer in the background, this is a time to step back from the general population and observe without engaging and without judgment.  Therein lies your freedom. 
And finally, the weekend comes to us! I LOVE the Ten of Cups in this deck!  Here is a man who is emotionally and physically fulfilled inviting the viewer to join him!  If you did your homework, you should move out of the Harry Scarey midweek just fine and into a joyful weekend.  On a side note, I just did a reading for a lady and sharing her cooking talents came forward. Her guides gave her the message to share her gift came with others.  How significant it is to teach a person to cook.  When we teach a person to cook, to really cook, we teach them to LIVE!  Enjoy your your abundance and your talents.  And share them.  That is how the world goes round.

Categories: Akashic Records, Manifestation, Psychic Consultations, Psychic Guidance, Weekly Shamanic Reading
/