Shopping Cart
Your Cart is Empty
There was an error with PayPal
Click here to try again
Thank you for your business!
You should be receiving an order confirmation from Paypal shortly.
Exit Shopping Cart
Shamanic Healer and Psychic Medium in Louisville, Kentucky
| | |
| --- | --- |
| Posted on August 18, 2014 at 9:07 PM | |
Good Evening folks, hope you had a fabulous Monday!  Today's weekly reading is taken from Doreen Virtues Ascended Masters Oracle Cards.  The Beginning of The week I pulled the card Hina: Freedom.  This card is about connecting with your feminine energy (Yes, that means YOU too Men! )  Soften yourself up a bit and mind your words.  It seems as if you might be a little harsh the beginning of the week, and you don't want to face the consequences of rash words.  Remember, words have power! 

Midweek, We have the card Health and Healing: Hilarion.  With this card, Spirit is making reference to yourself.  Midweek is time to be a little softer to yourself and give some love to your heart chakra. Crystal people, Emerald would be a good stone for you to work with right now.  Also eat deep green heart chakra colored foods-Spinach and Kale will boost your energy and help you get over that hurdle of midweek.  Summing it up, do something good for YOU midweek!  Take a walk or give yourself a pat on the back...you deserve it!
We bring the weeks end with Lakshmi: Flow of Prosperity.  Remember folks, work mirrors life.  This is about being connected to Spirit during your off time so you can have the ongoing connection during your work hours.  If you are off balance and not connected at home, you will feel it at work.  Want to increase your job satisfaction?  Start with a good look in the mirror :-)
Remember to, if we are disconnected, the flow of abundance will slow.  So relax and connect in the best way you know how, and your life will thank you for it!
Hope you have a wonderful and joy-filled week!
Namaste
Find me on Facebook!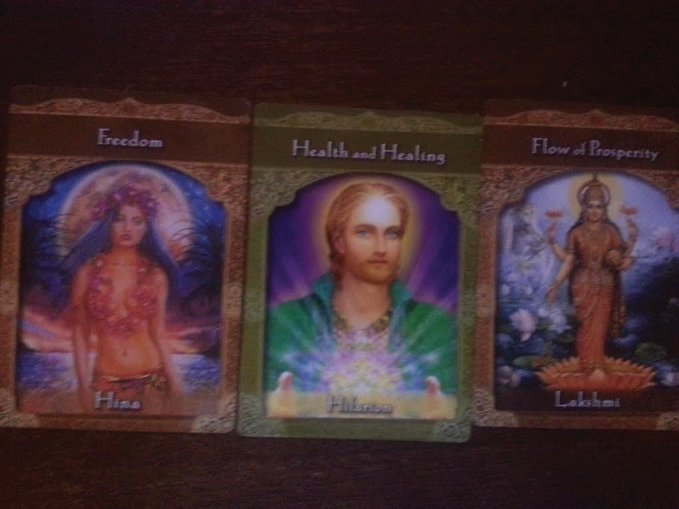 Categories: Chakra Healing, Energy Balancing, Healing, Manifestation, Shamanism, Spiritual healing, Weekly Shamanic Reading
/