Shopping Cart
Your Cart is Empty
There was an error with PayPal
Click here to try again
Thank you for your business!
You should be receiving an order confirmation from Paypal shortly.
Exit Shopping Cart
Shamanic Healer and Psychic Medium in Louisville, Kentucky
| | |
| --- | --- |
| Posted on August 11, 2014 at 1:59 PM | |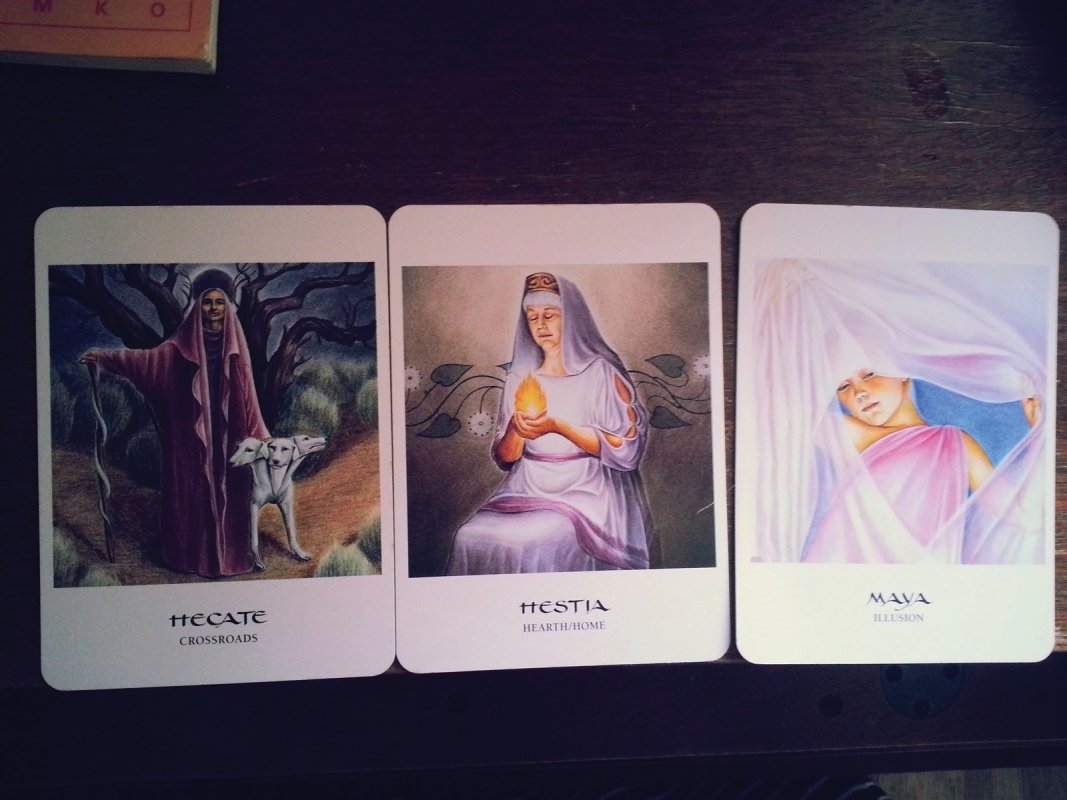 First I want to thank all of you for you're thoughts, prayers and healing energy for my friend.  She pulled through surgery with flying colors! 
This week's draw is from The Goddess Oracle.  I truly love this oracle and it carries a very profound energy :-) 

Monday-Hecate.  LOL.  I love this deck, but I didn't want to pull a darker card for all of you.
 Spirit doesn't always give us what we want, Spirit gives us what we need!  Hecate is said to have traveled to the underworld to retrieve Persephone for Demeter.  I think I would like to have a Grandmother as bold as Hecate on my side and all of you would do well to honor the wisdom she offers here.  Hecate stands under the New Moon to invite you to see your shadow self with open eyes.  Your  indecision is not serving you.  It's time to do some shadow work and look at yourself pragmatically.  By pragmatic, I mean without judgement.  Shadow Self does not respond to judgement and avoidance.  That will only stir her up.  Look into her eyes with compassion.  There is a reason she is there and connecting with her will help you get to the root of you indecisiveness, allowing you to reach a decision and move forward.   
Hestia joins us midweek.  Hestia wants you to attend to your home.  This is a connection to loved ones clamoring for your attention.  The last few weeks have been filled with much soul work and it's time to give others the attention they need.  For people with dogs, this is very important as I have a clear vision of some chewed up items.  Attend to needs to avoid chaos!  Midweek calls us to bake (or buy) some cookies and enjoy some family time.  If you live alone, then rent a favorite movie for yourself.  It's time to defuse in an enjoyable way.
And the  card for the weekend is Maya: Illusion.  This is a card of perspective. All that seems so important now, really isn't.  Allow yourself some much needed freedom away from stress.  This earth ship ride isn't about a perfect house-literally and figuratively.  It's about the ride.  We are here to learn and experience.  There is so much more than the here and now!  It's time to get out of the box and live it! I'm sure that you are asking me the question I hear most: "Well what is It all about!?!"  See the pink in the picture?  Start with your heart and the rest will follow.
I hope you have a wonderful, Love filled week!  It will be an enlightening one, I know :)

Categories: Akashic Records, Energy Balancing, Healing, Inner Child, Psychic Guidance, Weekly Shamanic Reading
/