Shopping Cart
Your Cart is Empty
There was an error with PayPal
Click here to try again
Thank you for your business!
You should be receiving an order confirmation from Paypal shortly.
Exit Shopping Cart
Shamanic Healer and Psychic Medium in Louisville, Kentucky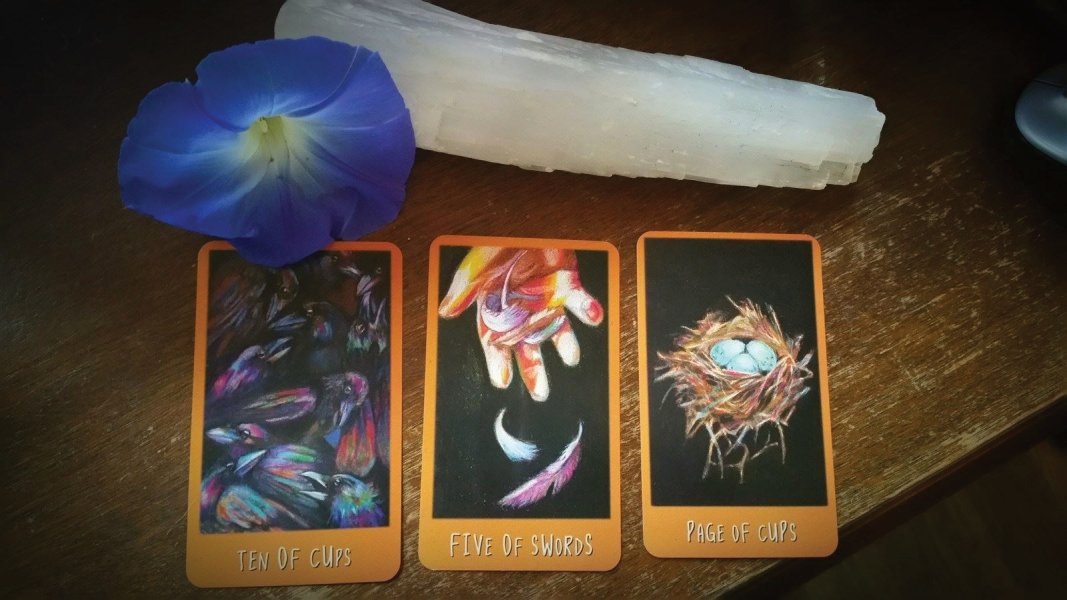 I haven't done a tarot Blog and a while but here is the new  Raven Prophecy Tarot.  I treated myself to a brand new release deck and ordered it before it came out!  I love this deck and a friend of mine has been playing with it, so I was inspired to pull it out for this week's forecast.  I love the Shamanic Feel to this deck and I am always happy with a deck that combines my love for Shamanism and Tarot.
We start the Week out with the Ten of Cups.  This is a card that promises fulfillment emotionally; however, in the Raven Tarot, I see quite a crowded situation.  This week seems to be a week of sorting things out; and when I look at this card, I hear all the Ravens talking at once.  While family and friendships are a wonderful gift, it appears its time to step back from the opinions of others and sort things out for yourself.  A visit with the Hermit might be just the thing for you! 
Starting Wednesday, we have the Five of Swords.  You have got plenty in the palm of your hand, but it's time to sort things out and let some of the excess go.  With Fall already on us, those of us in the Northern Hemisphere are soon going to be hunkered down inside for a bit.  Both literally and figuratively, too much is too much! All that stuff you hang on to has its own set of emotion.  As effortlessly as a feather floats to the ground, we release the things that aren't serving us at this time and free ourselves to more fruitful options.
We end the week with Page of Cups.  You've done your homework, congratulations! Now it's time to nurture your new self!  Who do you want to be?  Spend the weekend dreaming about it!  If dreaming never happens, creation never occurs. This is a weekend of manifestation. Have fun, take a walk and nurture your new baby self!  Imagine the impossible and create it! The time is now, and the opportunity is yours.  Much love to you all!

/