Shopping Cart
Your Cart is Empty
There was an error with PayPal
Click here to try again
Thank you for your business!
You should be receiving an order confirmation from Paypal shortly.
Exit Shopping Cart
Shamanic Healer and Psychic Medium in Louisville, Kentucky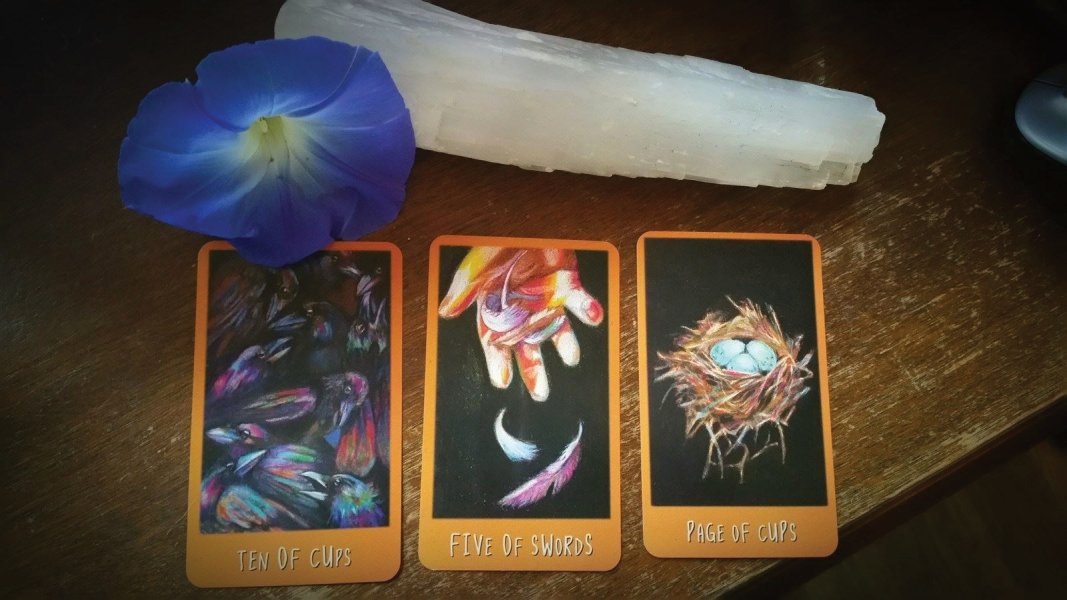 I haven't done a tarot Blog and a while but here is the new  Raven Prophecy Tarot.  I treated myself to a brand new release deck and ordered it before it came out!  I love this deck and a friend of mine has been playing with it, so I was inspired to pull it out for this week's forecast.  I love the Shamanic Feel to this deck and I am always happy with a deck that combines my love for Shamanism and Tarot.
We start the Week out with the Ten of Cups.  This is a card that promises fulfillment emotionally; however, in the Raven Tarot, I see quite a crowded situation.  This week seems to be a week of sorting things out; and when I look at this card, I hear all the Ravens talking at once.  While family and friendships are a wonderful gift, it appears its time to step back from the opinions of others and sort things out for yourself.  A visit with the Hermit might be just the thing for you! 
Starting Wednesday, we have the Five of Swords.  You have got plenty in the palm of your hand, but it's time to sort things out and let some of the excess go.  With Fall already on us, those of us in the Northern Hemisphere are soon going to be hunkered down inside for a bit.  Both literally and figuratively, too much is too much! All that stuff you hang on to has its own set of emotion.  As effortlessly as a feather floats to the ground, we release the things that aren't serving us at this time and free ourselves to more fruitful options.
We end the week with Page of Cups.  You've done your homework, congratulations! Now it's time to nurture your new self!  Who do you want to be?  Spend the weekend dreaming about it!  If dreaming never happens, creation never occurs. This is a weekend of manifestation. Have fun, take a walk and nurture your new baby self!  Imagine the impossible and create it! The time is now, and the opportunity is yours.  Much love to you all!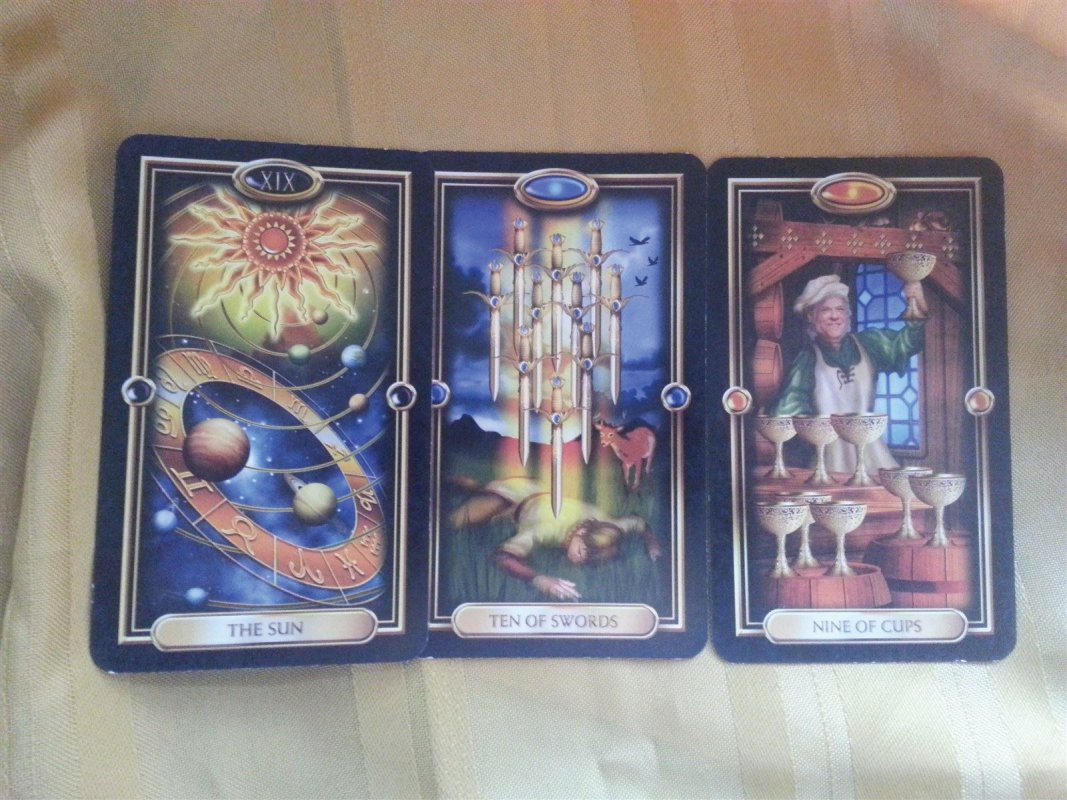 Good afternoon, folks, hope your weekend was a beautiful one!  Here is This week's forecast.  The beginning of the week mirrors how beautiful it truly is outside! It has been a truly spectacular autumn day!  The Cold is supposed to move into KY, so it has been a bittersweet day indeed!  When I see this card, I am reminded as well as the Rider Waite Deck picture, which as well features a child.  Enjoy this moment, this now...We always want to rush headlong into the next moment and the time is indeed now!  like childhood, life this moment will be a memory.  Humans spend far too much time desiring that next best thing when the next best thing is the now!  Gratitude for gifts is the message of The Sun Card in this particular draw.  Enjoy the journey with a grateful and joyful heart! 
We move into midweek and find ourselves deep into the Ten of Swords.  Things have gotten a little uphill, which tends to happen in November.  This is a warning to slow it down!  I can't help but notice that there is already Christmas advertisements out pushing the beginning of a shopping season.  This is creating a general fervor among the population to get things started before time runs out.  The energy in general is getting a little freaky lately! Don't get caught up in the whirlwind that others have created.  YOU are in complete control of your own destiny.  Like the deer in the background, this is a time to step back from the general population and observe without engaging and without judgment.  Therein lies your freedom. 
And finally, the weekend comes to us! I LOVE the Ten of Cups in this deck!  Here is a man who is emotionally and physically fulfilled inviting the viewer to join him!  If you did your homework, you should move out of the Harry Scarey midweek just fine and into a joyful weekend.  On a side note, I just did a reading for a lady and sharing her cooking talents came forward. Her guides gave her the message to share her gift came with others.  How significant it is to teach a person to cook.  When we teach a person to cook, to really cook, we teach them to LIVE!  Enjoy your your abundance and your talents.  And share them.  That is how the world goes round.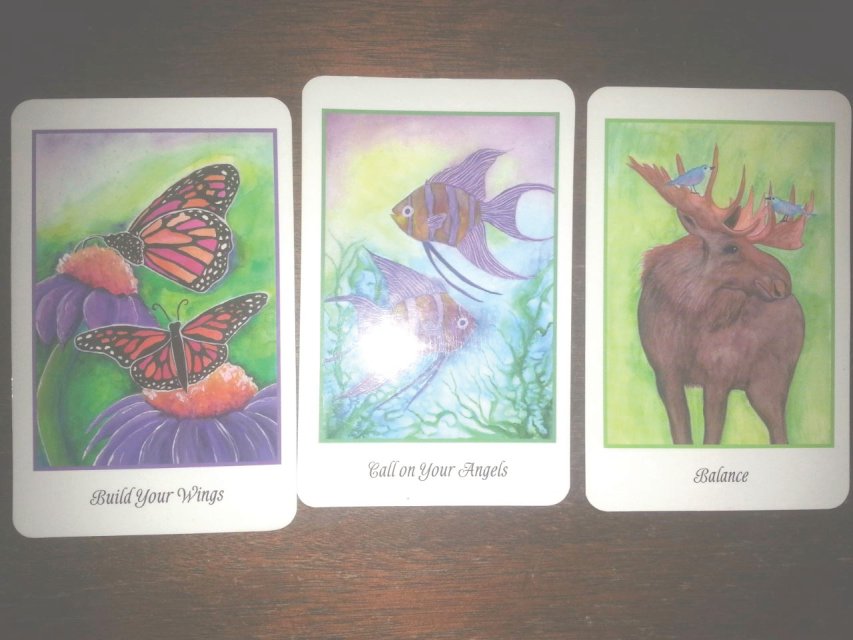 This week's forecast is taken from
Higher Intuitions
oracle deck.  how appropriate that we start the week with the beautiful Monarch Butterfly.  It's now October, and they have begun their great migration south.  Just last week, I caught a fleeting glimpse of one feeding among the fall flowers. What a treasure.  It is in this context that I am drawn to the words on the card, "Build Your Wings."  It is that we are on the cusp of a great migration ourselves.  Time to take some time and build your power, because you are awakening and the journey is just beginning.  Amidst the hustle of the week's beginning, this card tells us to slow down, turn off the electronics and find your center. 
The second card of the week is the Angel Fish and is titled, "Call on Your Angels."  This builds so naturally off the beginning of the week where we find ourselves needing to back off and build ourselves up.  Steer away from the stubborn urge to do things by yourself.  It's time to ask for help and help is there for you!  Your angels cannot work on your behalf without your request for assistance.  That overwhelmed feeling is completely unnecessary.  Remember help is just a request away.

We bring up the week with Moose, "Balance."  I am specifically drawn to the sense of community of the picture.  See the two birds perched on the moose?  This is a week to accept assistance.  Remember, you are not a failure for not going it by yourself.  The theme of the week seems to be open up to the helping hand of others.  Dear Ones, we have spirit and family and friends so we can give and receive. We need to let go of the tendencies to want to do it all by ourselves when a little help is all we need :-) 

I want to draw your attention to the pairs in this draw of cards.  Each card drawn has two of something, creating the Angel Number 222, the number of manifestation. Any ideas you have planted or are manifesting are beginning to take root.  Although the journey seems uphill, now is not the time to give up!  Keep watering those seeds and don't miss out on the miracle before it occurs!  Keep up the positive affirmations and the good work, for soon it will pay off :-) 

Have a great week folks!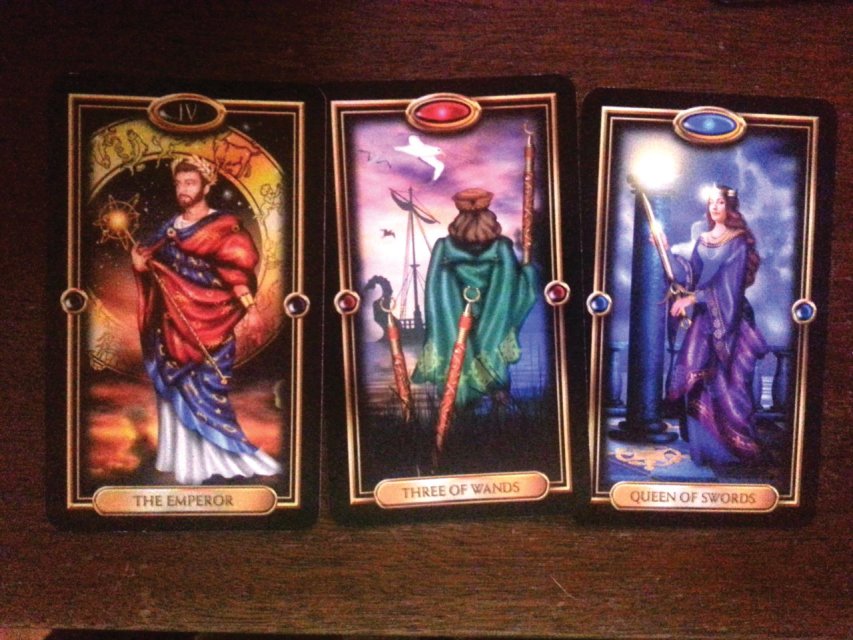 Lovely beautiful morning, my friends! Today's weekly reading is brought to you via my wonderful Bev and Jim at 
Ohm Sweet Ohm
.  Last week, I attended a festival so in Lexington and saw this deck.  This reading is from
The Guilded Tarot
, by Barbara Moore. We begin the week with the Emperor.  In this context, Emperor tells me that although you are ready for action, remember every action has a reaction.  The emperor never reacts out of emotion, he reacts from a state of balance.  Although action in your situation is necessary, make your action deliberate and avoid the repercussions of rash behavior.  If you react in balance, the outcome will be to your benefit. 
Midweek brings us the Three of Wands.  In this context, this is an emotional card.  If you have had a conversation with a loved one, they are sitting on it processing the conversation.  The man is waiting for his ship to come in and so are you, dear reader.  I know it is hard to watch and wait, especially if the conversation was a hard one.  If you played your cards right, (remember The Emperor?) your sincerity and balance will pay off in the end.  There is nothing you can do to control the situation, this is a time to allow the other person to sit with there emotions and a time for you to practice patience and step out of the need for control.  In the context of The Emperor, you have made your action, and sent the energy out.  Now you await the results. Patiently, you await and there is no action that can move things now.  Patience is an art that we can all use practice in!  Sometimes it's hard to sit and wait things out.  Wait is often the answer we get when we implore Spirit.
We end the week with The Queen of Swords.  Your patience has served you well, my friends and you will reap the benefits of your careful choices.  Queen of Swords is deliberate in her actions and speaks with a connection to the Divine.  Remember, the outcome depends on your careful choices.  When we act with a deep connection to spirit, we move with ease and without attachment to outcome.  Here the queen sits in the results of her hard work.  Allow yourself a little time to rest and give yourself a pat on your back.  You deserve it!  Have a great week, folks!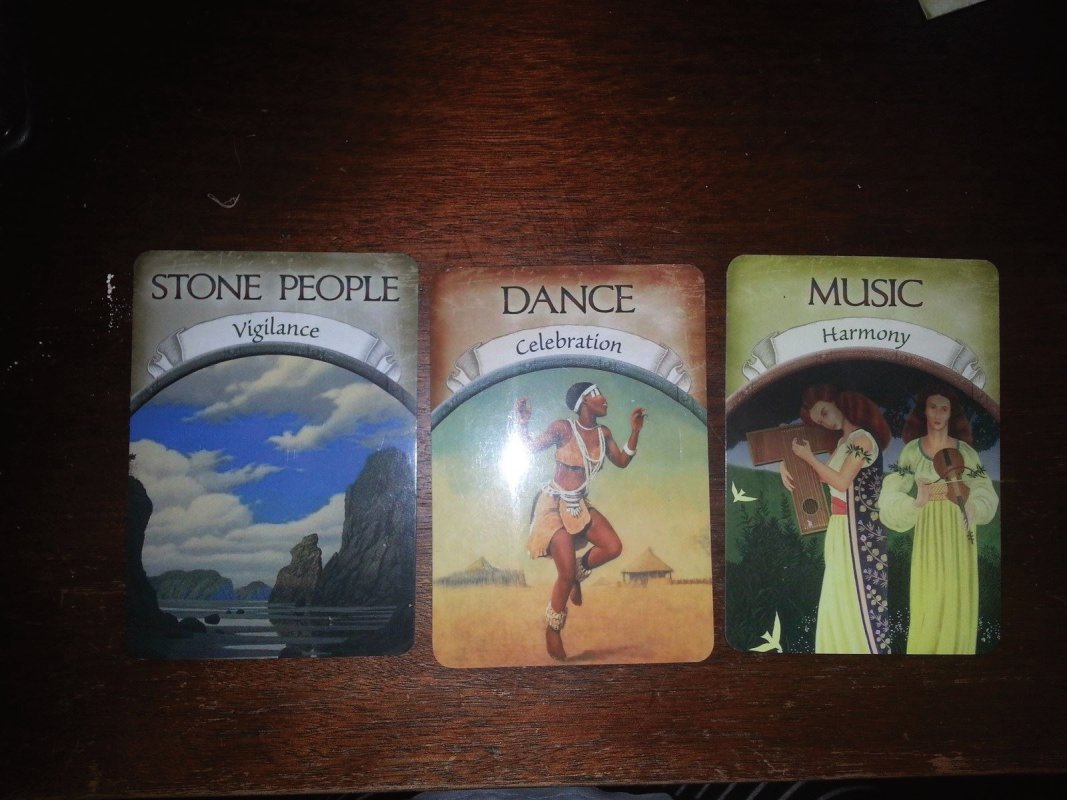 Good morning folks!  This week's forecast is taken from Seven Farmer's Earth Magic deck.  the beginning of the week, I pulled the card Stone People: Vigilance.  The guides are wanting you to know that the beginning of the week is a time to stand in your own grace.  By grace we mean non-combative and in alignment with spirit. The attention in the card is immediately drawn to the strength of the stone, but is softened by the element of water.  The  state of the water is very still.  So take a deep cleansing breath and soften your focus.  Now is not the time to engage actively in debate or conflict, but to instead draw upon your resources and stand quietly and unmoving in your own truth.  The middle of the week brings in the card Dance: Celebration.  "And David Danced Before the Lord." Samuel 6:14.  This is a time to connect deeply and with the sacred movement to celebrate life.  Move in unmitigated joy.  Laugh while you move.  Be spontaneous. While you are at it, have a banana split for supper Wednesday.  This is about feeling alive.  Do nothing but that which makes you completely and utterly happy.  Your heart will thank you for it!  For the end of the week, I pulled Music: Harmony.  This is a call to rearrange your surroundings a little during the weekend. Dust, clean and sage.  Often, stagnancy in our life is a reflection of stuck energy.  By cleaning our home and clearing the energy, we are creating a sense of balance all around.  Put a few clear quartz crystals in the four directions of your home.  This will provide continuous cleansing in charge throughout the new week.  Have a wonderful week every one :)
Find me on Facebook!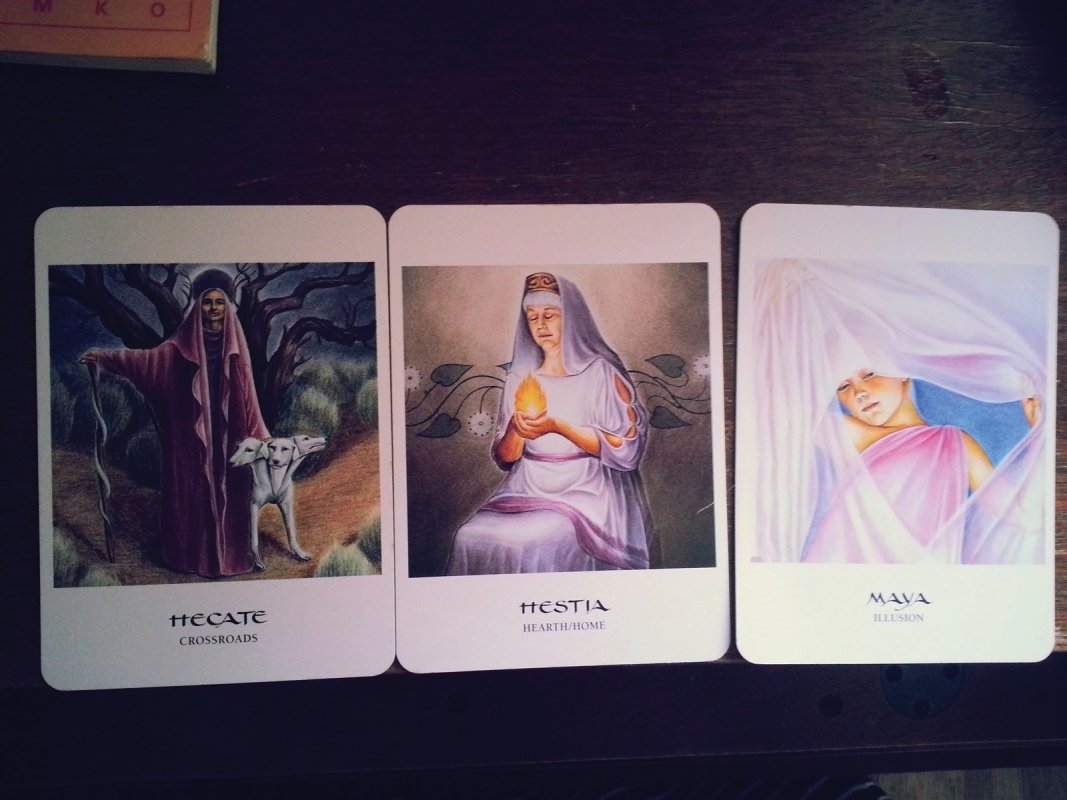 First I want to thank all of you for you're thoughts, prayers and healing energy for my friend.  She pulled through surgery with flying colors! 
This week's draw is from The Goddess Oracle.  I truly love this oracle and it carries a very profound energy :-) 

Monday-Hecate.  LOL.  I love this deck, but I didn't want to pull a darker card for all of you.
 Spirit doesn't always give us what we want, Spirit gives us what we need!  Hecate is said to have traveled to the underworld to retrieve Persephone for Demeter.  I think I would like to have a Grandmother as bold as Hecate on my side and all of you would do well to honor the wisdom she offers here.  Hecate stands under the New Moon to invite you to see your shadow self with open eyes.  Your  indecision is not serving you.  It's time to do some shadow work and look at yourself pragmatically.  By pragmatic, I mean without judgement.  Shadow Self does not respond to judgement and avoidance.  That will only stir her up.  Look into her eyes with compassion.  There is a reason she is there and connecting with her will help you get to the root of you indecisiveness, allowing you to reach a decision and move forward.   
Hestia joins us midweek.  Hestia wants you to attend to your home.  This is a connection to loved ones clamoring for your attention.  The last few weeks have been filled with much soul work and it's time to give others the attention they need.  For people with dogs, this is very important as I have a clear vision of some chewed up items.  Attend to needs to avoid chaos!  Midweek calls us to bake (or buy) some cookies and enjoy some family time.  If you live alone, then rent a favorite movie for yourself.  It's time to defuse in an enjoyable way.
And the  card for the weekend is Maya: Illusion.  This is a card of perspective. All that seems so important now, really isn't.  Allow yourself some much needed freedom away from stress.  This earth ship ride isn't about a perfect house-literally and figuratively.  It's about the ride.  We are here to learn and experience.  There is so much more than the here and now!  It's time to get out of the box and live it! I'm sure that you are asking me the question I hear most: "Well what is It all about!?!"  See the pink in the picture?  Start with your heart and the rest will follow.
I hope you have a wonderful, Love filled week!  It will be an enlightening one, I know :)

/