Shopping Cart
Your Cart is Empty
There was an error with PayPal
Click here to try again
Thank you for your business!
You should be receiving an order confirmation from Paypal shortly.
Exit Shopping Cart
Shamanic Healer and Psychic Medium in Louisville, Kentucky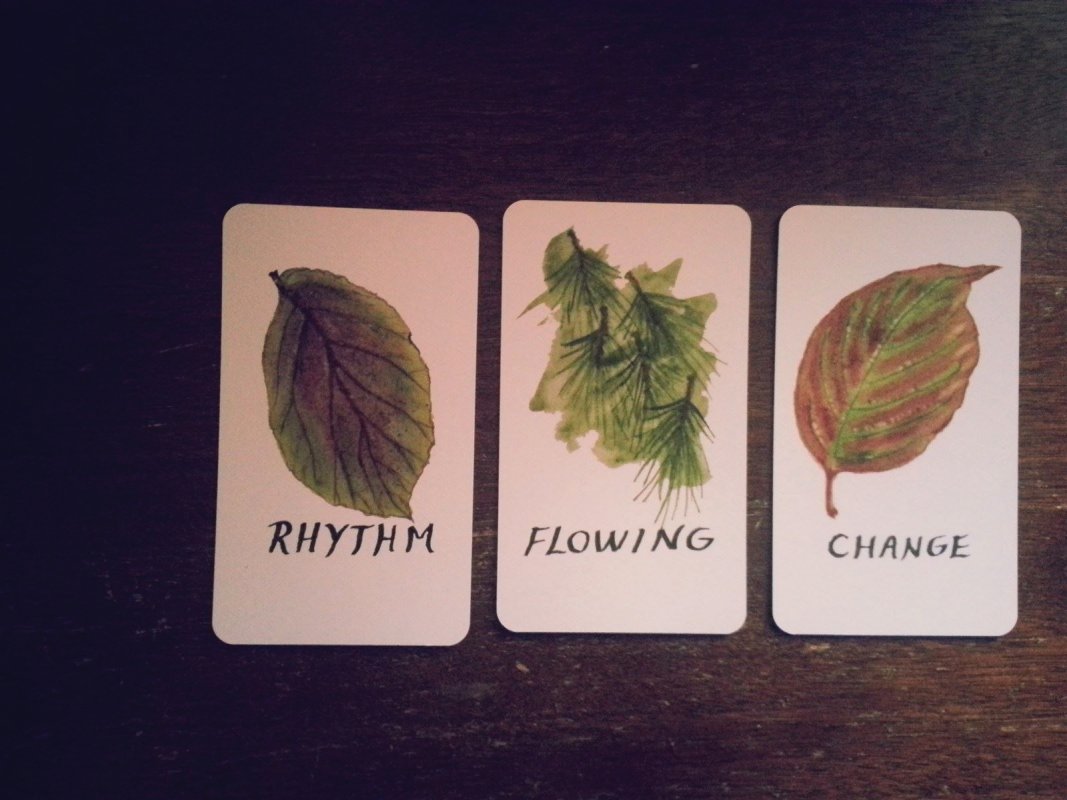 Good Monday night, Tuesday morning!  I am late with the post on this weeks energy!  These cards are based on water colors by the mother of my friend Jenny Abell of Earthstone Treasures. Well folks, it looks as if last weeks inner-child work is continuing its momentum! Your job for the week is to continue the work on finding your new balance.  With all the hard work, you may be finding the need to re-adjust yourself.  Looks like you got a little bumpy start to the week, huh?  Cut yourself shaving on Monday morning? Late for class or work because you couldn't find your keys? Never fear, now is the time to center yourself!  By all means, if you have a drum, pick up your drum and sound it!  If  you do yoga, then do yoga! Now is the time to connect.  None of the above?  My clients will know the next preach!  Take of your shoes and get your feet in the dirt.  When you feel the rhythm of the heartbeat of your mother, you will move right back into sync.  
If you do your home work, midweek is going to go easier for you.  Time to take your mind of things and treat yourself to a cup of tea (or cups of coffee if you are a shaman)  midweek finds us in the spark of creativity.  Give your solar plexus a boost by getting out in the sun and you will find the solution to that problem that has been nagging you the past two weeks.  Writers write, painters paint because the the creative juices are flowing! 

Which brings us to the final leg of the week.  All this energy is going to create momentum for more growth!  Get rid of what no longer serves you!  That includes that jumpsuit from 1985!  It just doesn't suit your needs any more!  Take a new route to work or try a new lipstick.  This card is about implementing the growth from the past too weeks.  You are a bright being, so shine your light.  Keep out of the rut by trying something new!  Your life is moving ever forward :-)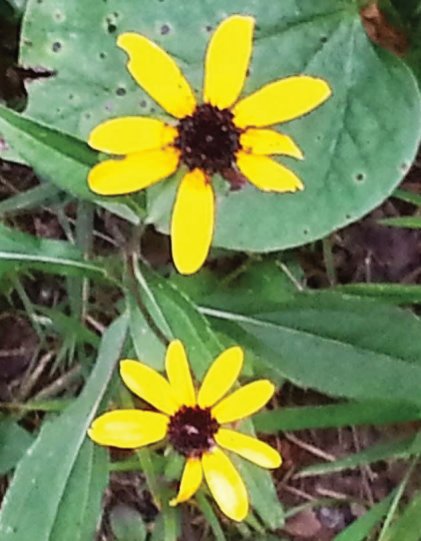 This weekend, At The Festival of Healing and Spiritual Awareness, in Elizabethtown, KY, I was enjoying the beauty of the arboretum next to the Pritchart Community Center and pondered about how I would love to share the healing that nature has given me with my clients.  For centuries, shamans have connected with nature in their healing practice, and that connection is never needed more than now!  So let's put away our cell phones and our i pads and come together Creators presence to explore our authentic selves.  Walk with me and together, we will gather the healing allies for your healing session.   There is no greater healing than the sun opening our crown chakras to let the light in <3 When you contact me for a consult, just let me know that you would like a nature consult and be ready to open your heart.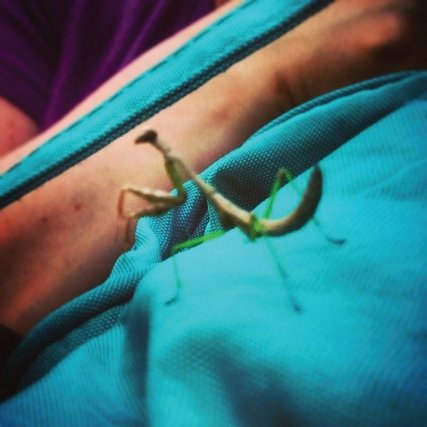 Living in the city is no excuse for not connecting with nature :)  This little guy here paid my wonderful friend Letha and I a visit while we were having coffee at the local Starbucks in my home of Louisville, KY.  He landed on my friends shoulder, and me being the shaman geek that I am, jumped up and started dancing around..."Look a praying mantis on your shoulder, he has a message for you!"  Meanwhile, Letha, who has a true appreciation for all animals, cringes, "Get him off before he crawls on my face!"  Add a minute of me dancing and Letha cringing until I finally moved him to her purse where she could better appreciate his beauty.  I first had to play with him and commune with him for just a moment ;-)
Praying Mantis is symbolic of the power of stillness.  What a wonderful complement to this weeks
message
!  According to Ted Andrews, Praying Mantis teaches us to still our busy outer mind and connect with our inner power and hear the voice of our inner teacher.  Looking for answers?  Worrying gets you no where.  Go into your still place and wait.  The answer will find  you there.
Follow Me on Facebook!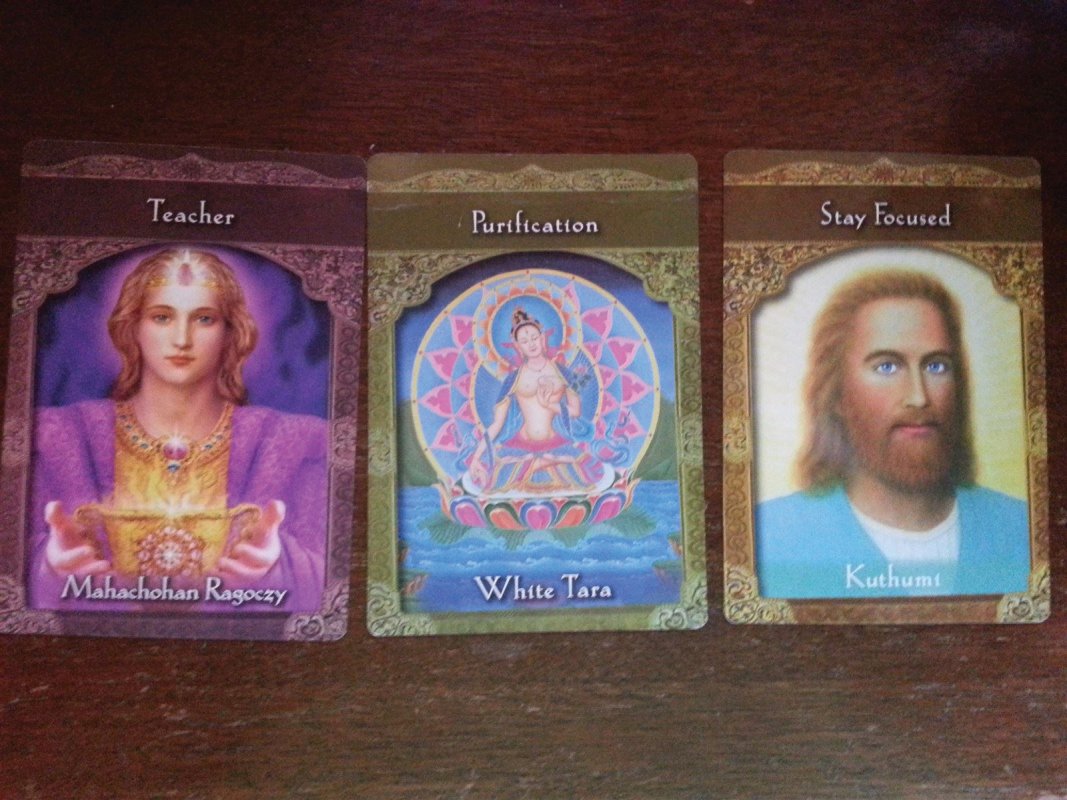 Good Morning!  Today I have the weekly card draw with the Akashic Records on July 14, 2014.  I need to start doing these on Sunday Morning!  This is from Doreen Virtue's ascended Masters Oracle Cards.
We start the week out with the card  "Teacher."  In this context, the card is referring to your inner teacher. Take that time out of your busy schedule to connect to your higher self! The Record keepers are noting the deep purple in the card, making a reference to The Third Eye.  The affirmation for this is "I see and know my own truth."  I got the message that there is much inner child work going on.  Are you caring for your inner child?  Listen to what this child has to say.  He/She has an important truth for you this week!  
The Second card is "Purification."  With all of this work going on early in the week, it comes to no surprise that we find ourselves needing to focusing on cleaning ourselves out!  Are you drinking clean water?  Maybe tap water is not what you need!  Make sure you filter your water or drink spring water to cleanse out your body.  Pay attention to your diet! Good wholesome foods, fresh fruits and vegetables are needed to support all of the Lessons learned during the earlier part of the week.
We finish up the week with the card "Stay Focused."  It's been a tiring week, and if you are doing the work that is suggested at the beginning of the week, you may be finding yourself a little tired; especially if your inner teacher has uncovered some very sensitive issues!  Stay with it! The week is almost over.  They want you to continue the work at hand.  Also please be mindful of making mistakes due to fatigue.  Pay attention to how much rest you are getting as emotional and physical fatigue can affect your ability to make decisions and stay on task.  Stay present to avoid mistakes in your everyday life!  
Folks it's going to be a busy week for you, but the weekend is coming!  
Today our guides want to talk about focusing  intentions.  Now that it's Saturday, many folks are thinking about sleeping in and lazy summer afternoons.  Tonight, however, is the night of the super moon.  The element of the full moon is a time of cleansing and charging.  The super moon amplifies the energies of this.  The end result is time to clearly move forward with your intentions and do the work today to ignite the way for the coming months.

This moon is about cleansing, whether one is aware or not.  Prepare for it.  It's going manifest a great amount of emotion in the world around.  The energy of the super moon is igniting a fire and issues that need to be recognized are coming to surface; emotions are running high. People are going to be very edgey.  Show some compassion to irrational outbursts (within reason) from the general public.  You may run into a frustrated cashier and please be highly aware of other drivers while on the road. Staying focused and aware will help you to successfully navigate the energies this weekend without being pulled into the frenzied energies of high emotions. 

Now is the time to gather your resources.  Call on your guides and power animals.  Do your spiritual homework.  Devote some time meditating.  If you drum, sound your drum.  Drum for the healing of all around to ease emotions and increase awareness.   Ask that spirit help you to focus yourself so you can heal and release the things that no longer serve you.  When you move with intention, you will feel mor centered and less overwhelmed. Set your intentions for the month ahead.  It's a good weekend to get out in nature and put your bare feet on the earth.  Doing so will help ground you and will connect you so you can fully experience the beauty of the super moon.
Follow me on Facebook!
/