Shopping Cart
Your Cart is Empty
There was an error with PayPal
Click here to try again
Thank you for your business!
You should be receiving an order confirmation from Paypal shortly.
Exit Shopping Cart
Shamanic Healer and Psychic Medium in Louisville, Kentucky
Better Late than never, here is your weekly forecast! This week is Messages from Your Angels, by Dorreen Virtue.  I want to start out by saying, Okay, who's been the over achiever here?  The first card I prove is about self care-  Teresa: time-out! You've been so busy taking care of everyone else's needs, but now it's time to stop and take care of yourself. This feels more to mee like someone or someones are work-a-holics.  The grind is getting to you and you are forgetting to eat well and get some sleep.  This card poses a call to your health.  Slow down and pay attention to your body or your body will get your attention.  Get some colorful fruits and veggies into your system and boost your immunity.  You need it!
The second card is Bridgette: Caution is warranted.  Look deeper into this situation before proceeding further." If you are getting ready to sign on that house, make sure you have it thoroughly inspected.  Take care of yourself by taking care of your personal business.  Get that second opinion and save yourself grief later.  The investment you make in a professional opinion will definitely pay out in the end.  Slow down and take care. There is more to this situation than meets the eye.  Midweek is definitely a time that should be spent in moving slowly and with great care.  
The weekend brings in Archangel Uriel: "Your emotions are healing which enables you to open to greater love.  I will help you to release anger and unforgiveness from you heart and mind."  Seems like the last month has been one of healing and processing for everyone.  This weekend is a good time to get a cup of chamomile tea and allow the herbs to do the work.  This is about stepping out of the way and asking spirit to gently help you release that which no longer serves you.  Get a massage or reiki session.  This is about getting out of your own way and allowing spirit to balance and work. Through you.  A good crystal for the weekend is Angelite.  This is a powerful stone that promotes deep rest and soothes the soul by connecting one to the angelic realm. 

Have a great week folks!

Good Evening folks, hope you had a fabulous Monday!  Today's weekly reading is taken from Doreen Virtues Ascended Masters Oracle Cards.  The Beginning of The week I pulled the card Hina: Freedom.  This card is about connecting with your feminine energy (Yes, that means YOU too Men! )  Soften yourself up a bit and mind your words.  It seems as if you might be a little harsh the beginning of the week, and you don't want to face the consequences of rash words.  Remember, words have power! 

Midweek, We have the card Health and Healing: Hilarion.  With this card, Spirit is making reference to yourself.  Midweek is time to be a little softer to yourself and give some love to your heart chakra. Crystal people, Emerald would be a good stone for you to work with right now.  Also eat deep green heart chakra colored foods-Spinach and Kale will boost your energy and help you get over that hurdle of midweek.  Summing it up, do something good for YOU midweek!  Take a walk or give yourself a pat on the back...you deserve it!
We bring the weeks end with Lakshmi: Flow of Prosperity.  Remember folks, work mirrors life.  This is about being connected to Spirit during your off time so you can have the ongoing connection during your work hours.  If you are off balance and not connected at home, you will feel it at work.  Want to increase your job satisfaction?  Start with a good look in the mirror :-)
Remember to, if we are disconnected, the flow of abundance will slow.  So relax and connect in the best way you know how, and your life will thank you for it!
Hope you have a wonderful and joy-filled week!
Namaste
Find me on Facebook!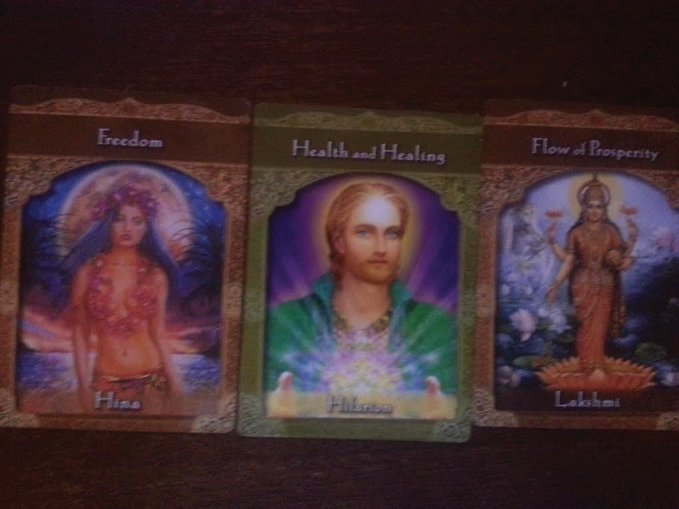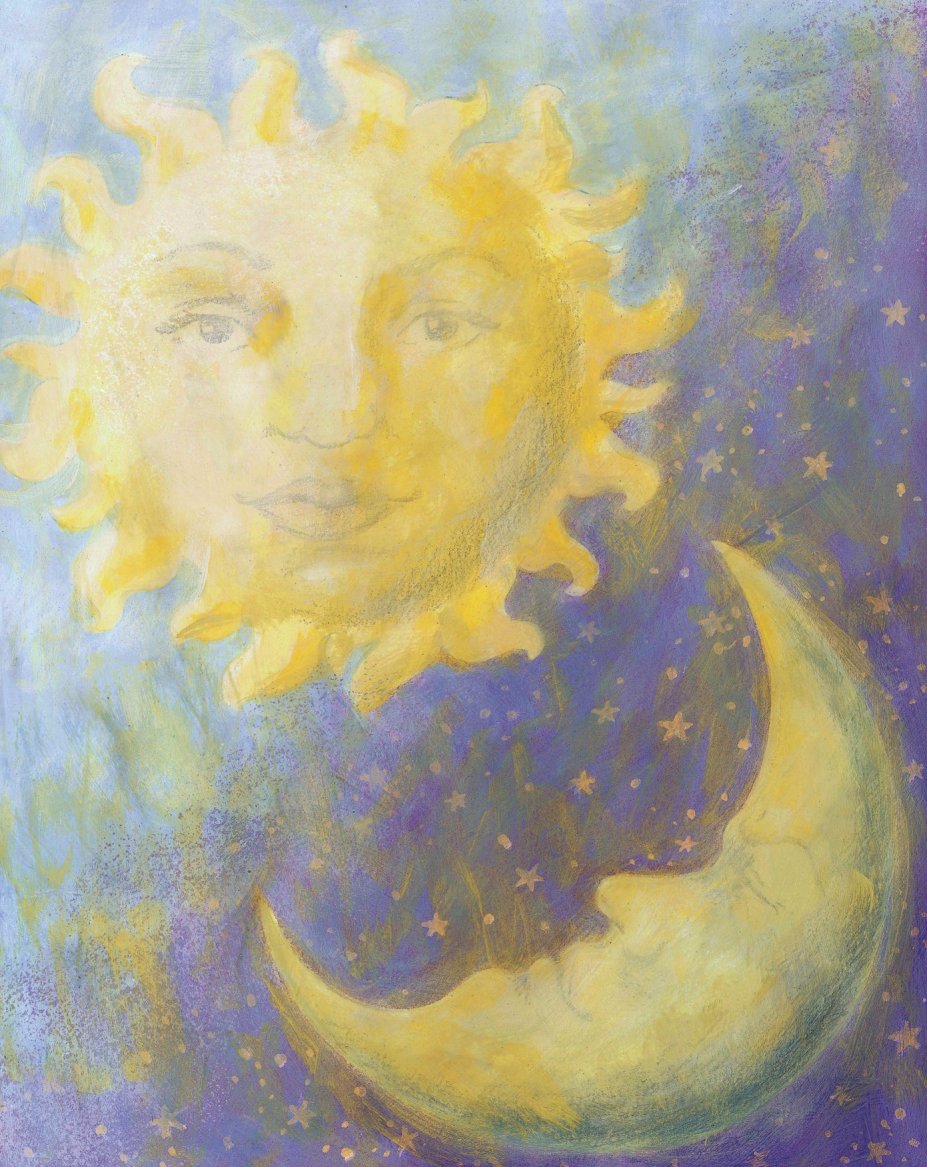 Good evening folks!  I am fresh off an evening of drumming under the cottonwood tree.  What a lovely feeling connecting like this. I am having problems uploading the pictures right now, but I will try later.  I can always update:)

This week's reading is from Higher Intuitions Oracle
We start out the week with The Horse-Freedom.  This card speaks of the need to move forward and move beyond the boundaries of the every day. It's in the little things, my friends....The tranquil sunset, the cool morning on the way to your car.  Stretch your limits this week and look beyond the ordinary the beginning of the week.  You might be surprised what you find when align your views.  The drudgery of everyday life always contains the unexpected.  The Joy is in finding it.  
The midweek card is The Butterfly-Build Your Wings.  It bears noting that the specific butterfly pictured is the Monarch Butterfly.  When I think of Monarchs, I think of the great migration.  This card signifies a change taking place or a moving forward.  Where are you migrating to? Ar you making progress or are you stagnant.  What can you release so that you can move forward?  Midweek is a time of transformation and a time of travel.  It would be a good time to get that journal out and motivate yourself to spend some times noting your thoughts and feelings.   As a caterpillar, the monarch goes inside a cocoon and away from the eyes of the outside world, makes it's transformation. 

The end of the week brings us the Hedgehog-Let it Be.  Time to let go of any worry, as this does not serve you. Worrying about how the bills are paid is not going to help your situation.  The time is now to place your faith in spirit and to know that it is going to  work out.  take note of the pink lotus flower in the foreground of the photo.  This is telling me two things about my readers, first there is a continuing opening that is motivated by the middle of the week.  The lotus symbolizes to me a beautiful connection to spirit and an opening of doors.  If you are doing your release work, good things will follow.  The stagnancy that you have been experiencing will soon fade and the result will be joyful connection.  Also, the pink flower is very pronounced.  Pink is a heart chakra color.  Grab yourself some rose quartz and meditate with it.  Your heart chakra will thank you for it and the answers will flow.

Find Me on Face Book!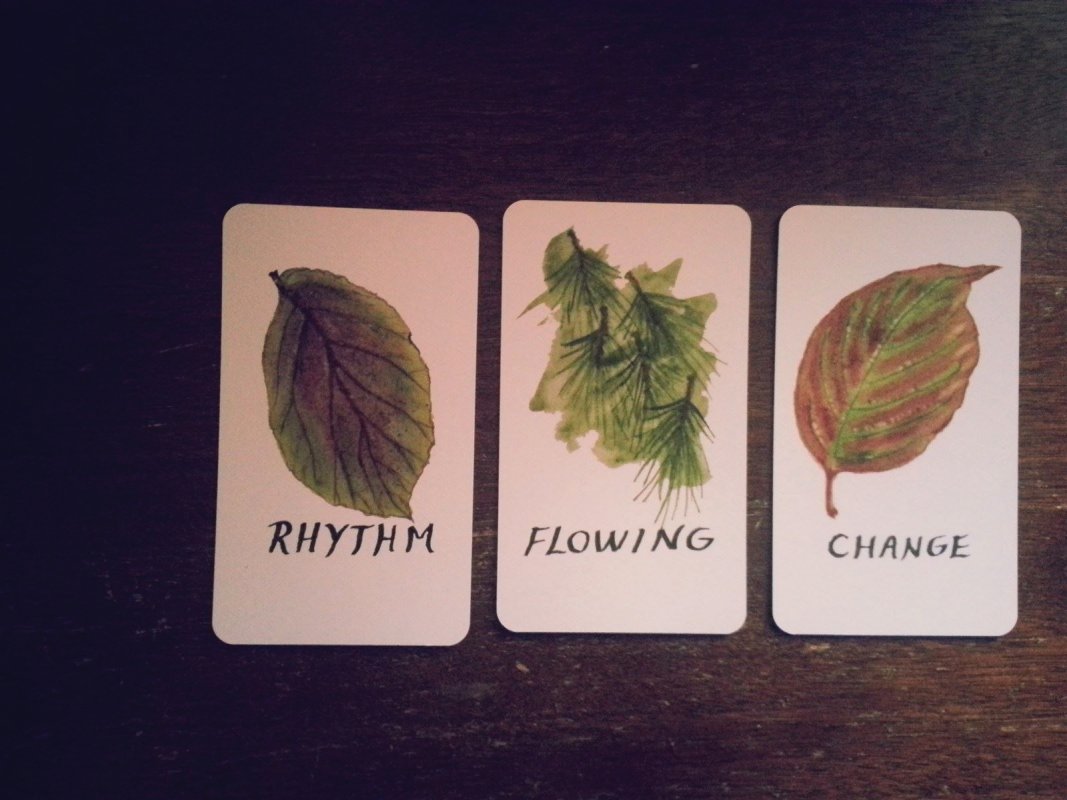 Good Monday night, Tuesday morning!  I am late with the post on this weeks energy!  These cards are based on water colors by the mother of my friend Jenny Abell of Earthstone Treasures. Well folks, it looks as if last weeks inner-child work is continuing its momentum! Your job for the week is to continue the work on finding your new balance.  With all the hard work, you may be finding the need to re-adjust yourself.  Looks like you got a little bumpy start to the week, huh?  Cut yourself shaving on Monday morning? Late for class or work because you couldn't find your keys? Never fear, now is the time to center yourself!  By all means, if you have a drum, pick up your drum and sound it!  If  you do yoga, then do yoga! Now is the time to connect.  None of the above?  My clients will know the next preach!  Take of your shoes and get your feet in the dirt.  When you feel the rhythm of the heartbeat of your mother, you will move right back into sync.  
If you do your home work, midweek is going to go easier for you.  Time to take your mind of things and treat yourself to a cup of tea (or cups of coffee if you are a shaman)  midweek finds us in the spark of creativity.  Give your solar plexus a boost by getting out in the sun and you will find the solution to that problem that has been nagging you the past two weeks.  Writers write, painters paint because the the creative juices are flowing! 

Which brings us to the final leg of the week.  All this energy is going to create momentum for more growth!  Get rid of what no longer serves you!  That includes that jumpsuit from 1985!  It just doesn't suit your needs any more!  Take a new route to work or try a new lipstick.  This card is about implementing the growth from the past too weeks.  You are a bright being, so shine your light.  Keep out of the rut by trying something new!  Your life is moving ever forward :-)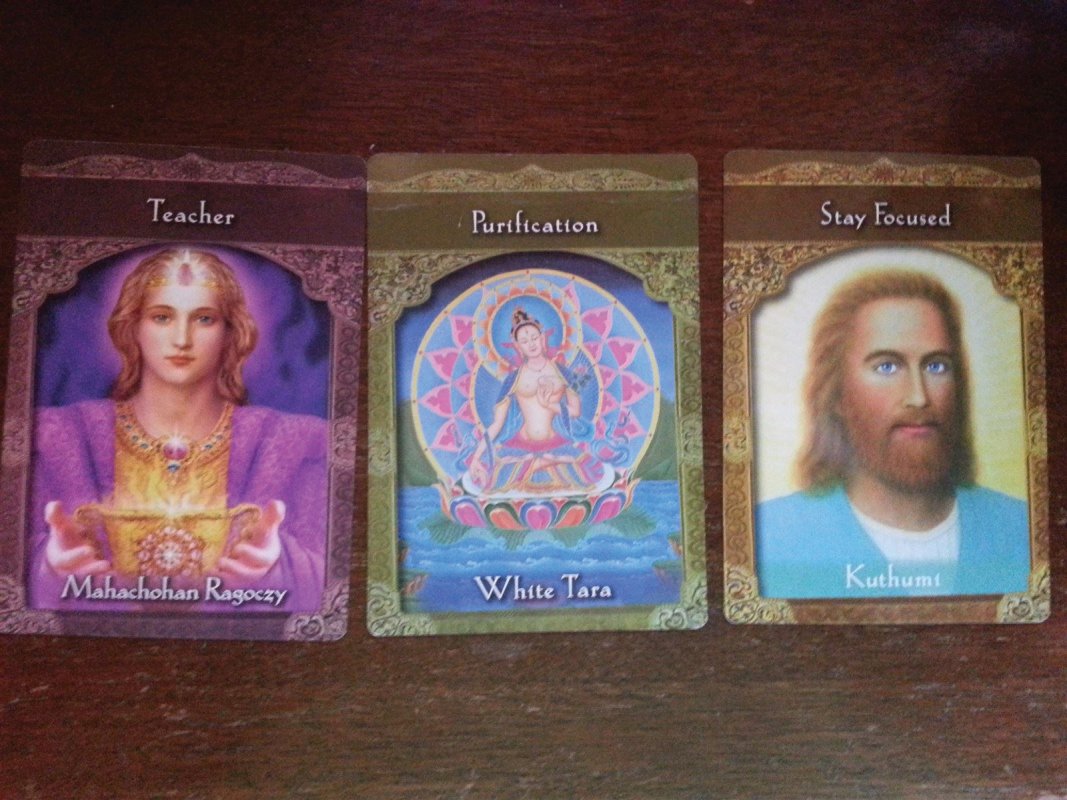 Good Morning!  Today I have the weekly card draw with the Akashic Records on July 14, 2014.  I need to start doing these on Sunday Morning!  This is from Doreen Virtue's ascended Masters Oracle Cards.
We start the week out with the card  "Teacher."  In this context, the card is referring to your inner teacher. Take that time out of your busy schedule to connect to your higher self! The Record keepers are noting the deep purple in the card, making a reference to The Third Eye.  The affirmation for this is "I see and know my own truth."  I got the message that there is much inner child work going on.  Are you caring for your inner child?  Listen to what this child has to say.  He/She has an important truth for you this week!  
The Second card is "Purification."  With all of this work going on early in the week, it comes to no surprise that we find ourselves needing to focusing on cleaning ourselves out!  Are you drinking clean water?  Maybe tap water is not what you need!  Make sure you filter your water or drink spring water to cleanse out your body.  Pay attention to your diet! Good wholesome foods, fresh fruits and vegetables are needed to support all of the Lessons learned during the earlier part of the week.
We finish up the week with the card "Stay Focused."  It's been a tiring week, and if you are doing the work that is suggested at the beginning of the week, you may be finding yourself a little tired; especially if your inner teacher has uncovered some very sensitive issues!  Stay with it! The week is almost over.  They want you to continue the work at hand.  Also please be mindful of making mistakes due to fatigue.  Pay attention to how much rest you are getting as emotional and physical fatigue can affect your ability to make decisions and stay on task.  Stay present to avoid mistakes in your everyday life!  
Folks it's going to be a busy week for you, but the weekend is coming!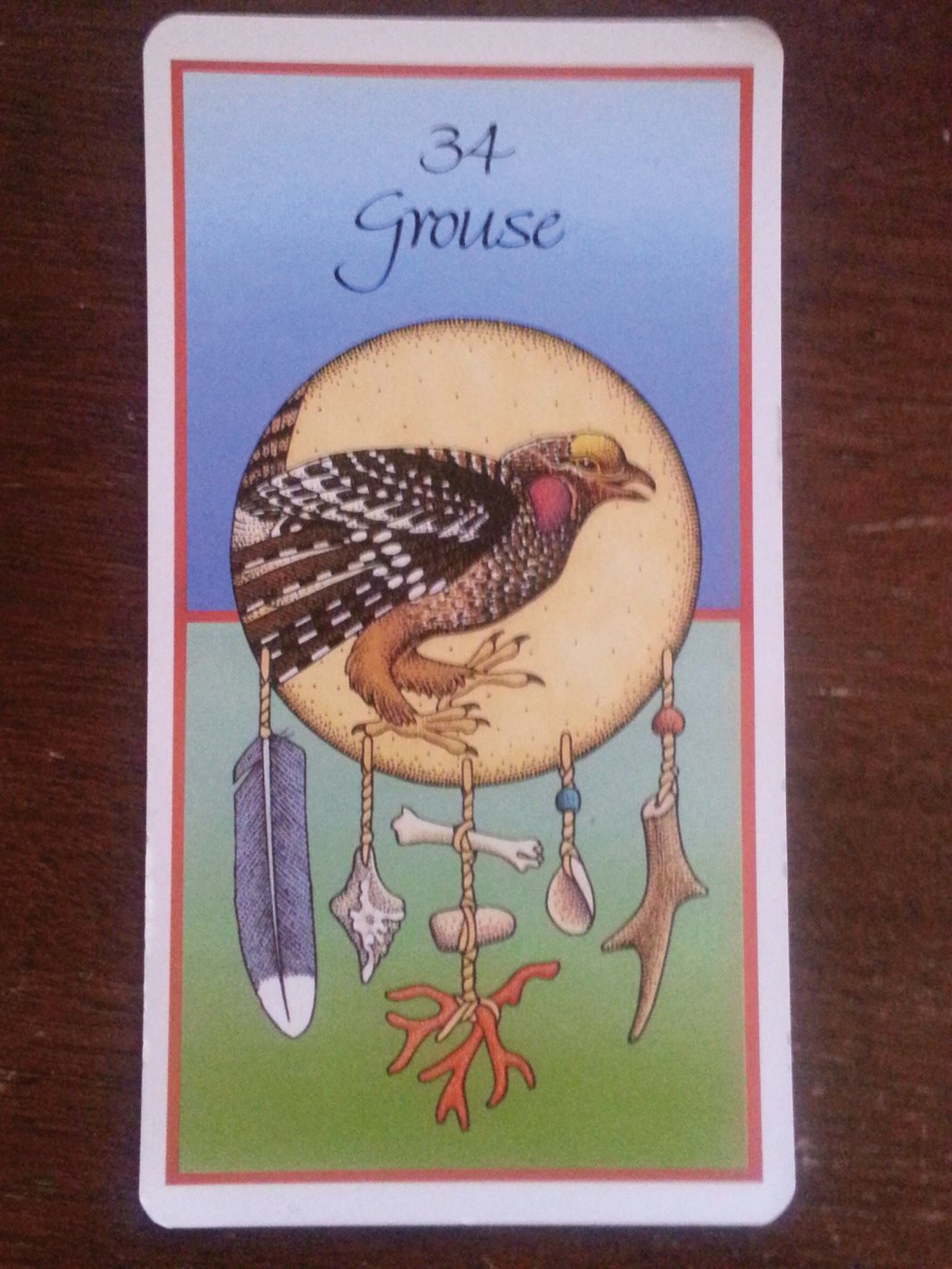 Feeling a little stuck lately?  Grouse is coming through to tell you it's time to open up your energy and connection through spirit by dance!  I have been working with grouse  since last summer when I encountered him at the magical Bernheim Forest.  He's a feisty fellow though, and hard to photograph, so we have to settle for the power animal card.  you would have got a chuckle watching him lead me through the brush as I tried to get a photo of him. 
Grouse's dances in a spiral, moving ever outward, all while beating his wings on the ground, much like a drum beat.  grouse comes forward to show us sacred movement and the magic of the drum.  He is telling you that opening up to spirit through dance and drumming will create a vitality that will break up stuck energy and provide you with clarity to move forward.  Indecisiveness is indicative of solar plexus issues; one of the greatest ways to open that solar plexus is through dance.  The spiral movement of grouse  points helps to get that solar plexus spinning!  Don't be afraid of being seen, it's about freeing yourself to the sacred joy and expression of dance. 
Saturday will be a great day to get out your drums and dance!  The super moon is coming and it will ad it's cleansing and magnification to your dancing ceremony.  What a beautiful way to enjoy the full moon.  Have a wonderful weekend folks.

Note: If you are a face book friend, you have already met grouse in my weekly video reading, so this is a bit of a recap :-)  If you want to know more about working with power animals to open your life up, feel free to contact me.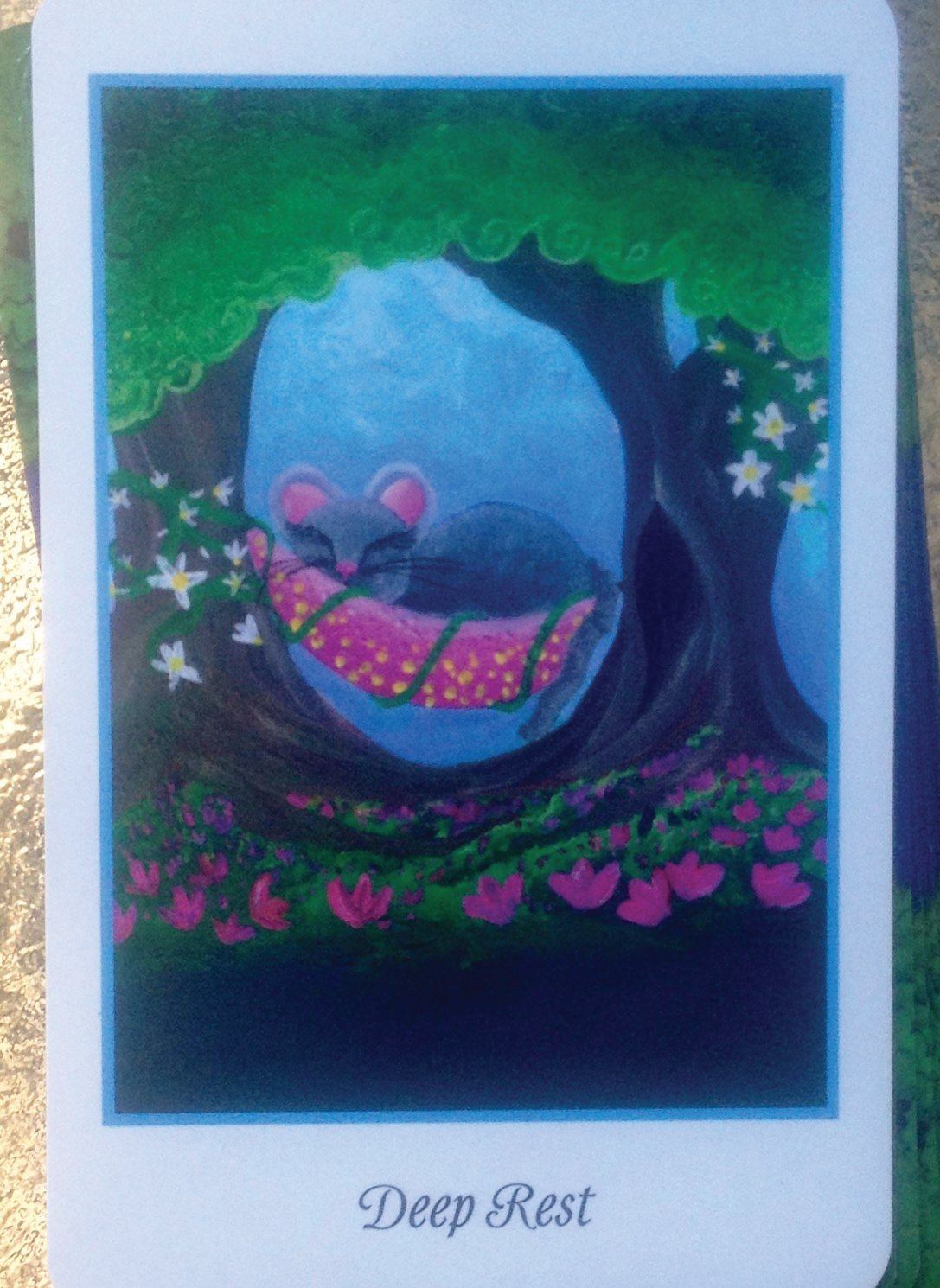 Good morning wonderful souls!  Today's card pull is taken from Higher Intuitions Oracle.  In the United States, we celebrated our Fourth of July Independence Day, so when I picked this card, I asked the Akashic Records to choose a card that was of the highest good to all concerned.  The Record keepers have always had a sense of humor, and this card is a bit of a point toward the over celebrating that occurred and is occurring over the long weekend. Time to take it down a notch and refuel your body and soul.  Drink plenty of fluids, and get some good sunshine.  You will soon feel ready to face the world. 
United States holiday aside, this card speaks deeply to me today heart chakra work.  it is time to slow down a little and give yourself some much needed attention.  Last week was especially testing for many and the time has come to nurture yourself and let the needs of others be set aside!  They can wait! The people for whom this post is meant are stretching themselves thin tending to everyone but  themselves!  The time is now to work on that self care!  If you do not feed yourself, you will not have the energy to serve others.  Take a look at your heart chakra and ask it what it wants you to know.  The Record Keepers want you to release any beliefs systems that you are not worthy of some well deserved time to yourself <3
Like me on Facebook
/