Shopping Cart
Your Cart is Empty
There was an error with PayPal
Click here to try again
Thank you for your business!
You should be receiving an order confirmation from Paypal shortly.
Exit Shopping Cart
Shamanic Healer and Psychic Medium in Louisville, Kentucky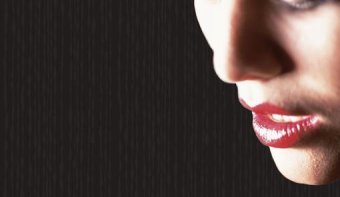 During a reading today, a woman repeatedly asked me if her business venture was going to fail or if her husband was going to leave her when she went away on business.  All aspects of the reading were positive.  Here husband was a solid, stable personality.  She was a person who was greatly organized and one of those gifted people who had the ability to make her ventures successful.  Her issue?  The heart of the matter was herself! Each time I did a spread for her, the outcome was good, but the possible blocks were her own fears and insecurities.  Will her relationship fail her?  If her husband has his choice, no!  However, there are issues within herself that were going to stand in her way.
I am going away and my husband will leave me because of thi
s  is a mindset that was not going to serve her marriage.  Instead, her guides suggested she focus on trusting her husband's stability and the gift of his support.  They suggested she use words to speak the truth of her successful relationship and her savvy business skills.
Often, we can vastly improve our situations by minding our own words.  This is a well known psychological term coined Self-Fufilling Prophecy.  In a nutshell,  self-fulfilling prophesy translates words have power. Tell a child he has issues with reading, and he will struggle with reading!  Want to succeed?  Stop  second guessing yourself! Take a look at the way you talk to yourself, and there you might just find the root of your struggles. Manifestation is empowered by belief and trust.  A simple change of thinking from I'm not sure if I made the right decision to I am competent, successful business woman can make all the difference in the world.  Granted, to reach this point, many of us have to go through a great amount of work and healing.  However, taking the step to change your thoughts and words-even if you do not yet believe your new positive language-is an excellent first step toward manifesting your bright future.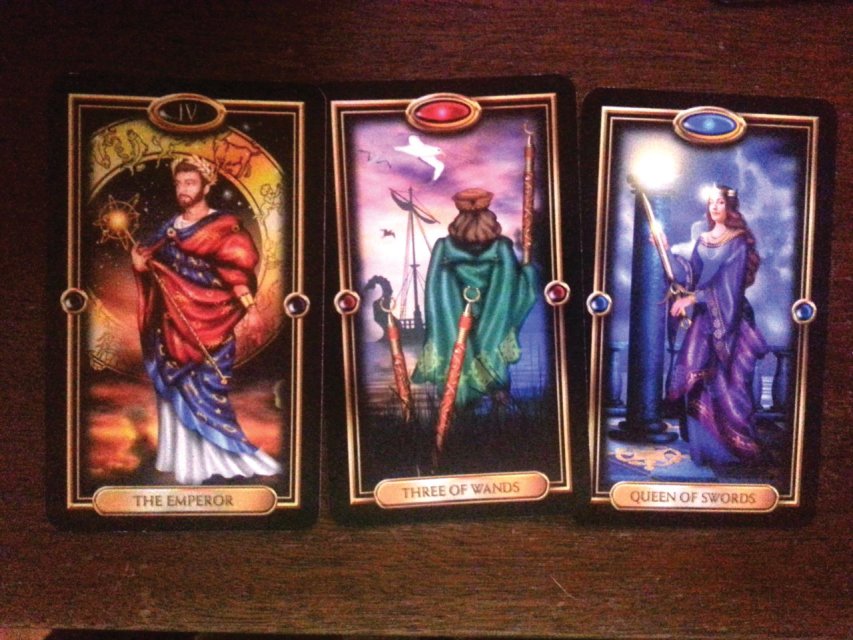 Lovely beautiful morning, my friends! Today's weekly reading is brought to you via my wonderful Bev and Jim at 
Ohm Sweet Ohm
.  Last week, I attended a festival so in Lexington and saw this deck.  This reading is from
The Guilded Tarot
, by Barbara Moore. We begin the week with the Emperor.  In this context, Emperor tells me that although you are ready for action, remember every action has a reaction.  The emperor never reacts out of emotion, he reacts from a state of balance.  Although action in your situation is necessary, make your action deliberate and avoid the repercussions of rash behavior.  If you react in balance, the outcome will be to your benefit. 
Midweek brings us the Three of Wands.  In this context, this is an emotional card.  If you have had a conversation with a loved one, they are sitting on it processing the conversation.  The man is waiting for his ship to come in and so are you, dear reader.  I know it is hard to watch and wait, especially if the conversation was a hard one.  If you played your cards right, (remember The Emperor?) your sincerity and balance will pay off in the end.  There is nothing you can do to control the situation, this is a time to allow the other person to sit with there emotions and a time for you to practice patience and step out of the need for control.  In the context of The Emperor, you have made your action, and sent the energy out.  Now you await the results. Patiently, you await and there is no action that can move things now.  Patience is an art that we can all use practice in!  Sometimes it's hard to sit and wait things out.  Wait is often the answer we get when we implore Spirit.
We end the week with The Queen of Swords.  Your patience has served you well, my friends and you will reap the benefits of your careful choices.  Queen of Swords is deliberate in her actions and speaks with a connection to the Divine.  Remember, the outcome depends on your careful choices.  When we act with a deep connection to spirit, we move with ease and without attachment to outcome.  Here the queen sits in the results of her hard work.  Allow yourself a little time to rest and give yourself a pat on your back.  You deserve it!  Have a great week, folks!
Lets talk about Love!  You know, the romantic kind.....the kind that everyone wants to ask their consultant about. Many questions are centered around topics such as "When am I going to meet my soul mate?"  or "Is this THE ONE?"

The first step in finding that romance of a lifetime is to clear all the expectations gathered from Disney (unless you are watching Brave or Frozen ;-) )  and completely forget you ever saw any part of the Twilight series.  Understanding the face of romantic love will set you in the right direction.  In order to do that, many of us go through quite a long period of finding out what love is not. 

I am just about as much of a sucker for a good romance as the next person, but unfortunately, they have done much to create a deception for people about what true spiritual connection is.  We get caught up in all of the rush of endorphins that accompany new love and we completely lose our minds.  When Creator designed sex, it was and is designed to be a multifaceted experience of the physical and spiritual. For some people, the ego can deceptively mask sexual connection for a spiritual experience, and the results can be devastating. Many of us can simply lose our minds in it all....So slow down a little and allow the connection to develop.  Your spirit will thank you for it.

Before you get caught up in the dance, better to start with a pragmatic discussion with yourself.  Make your list of expectations of Mister or Miss right.  And then tear it up!  There should be the obvious deal breakers and red flags, but you might be surprised to find what the face of your romantic life partner-in-crime looks like! I know I was <3  I had a sensitive, creative artist in mind and what I got was a loud horse groom! My initial reaction to him was to completely roll my eyes and walk away.  It was further down the line when our friendship developed that the spiritually gifted sensitive came out.  In my own expectations, I almost missed out on the love of a lifetime!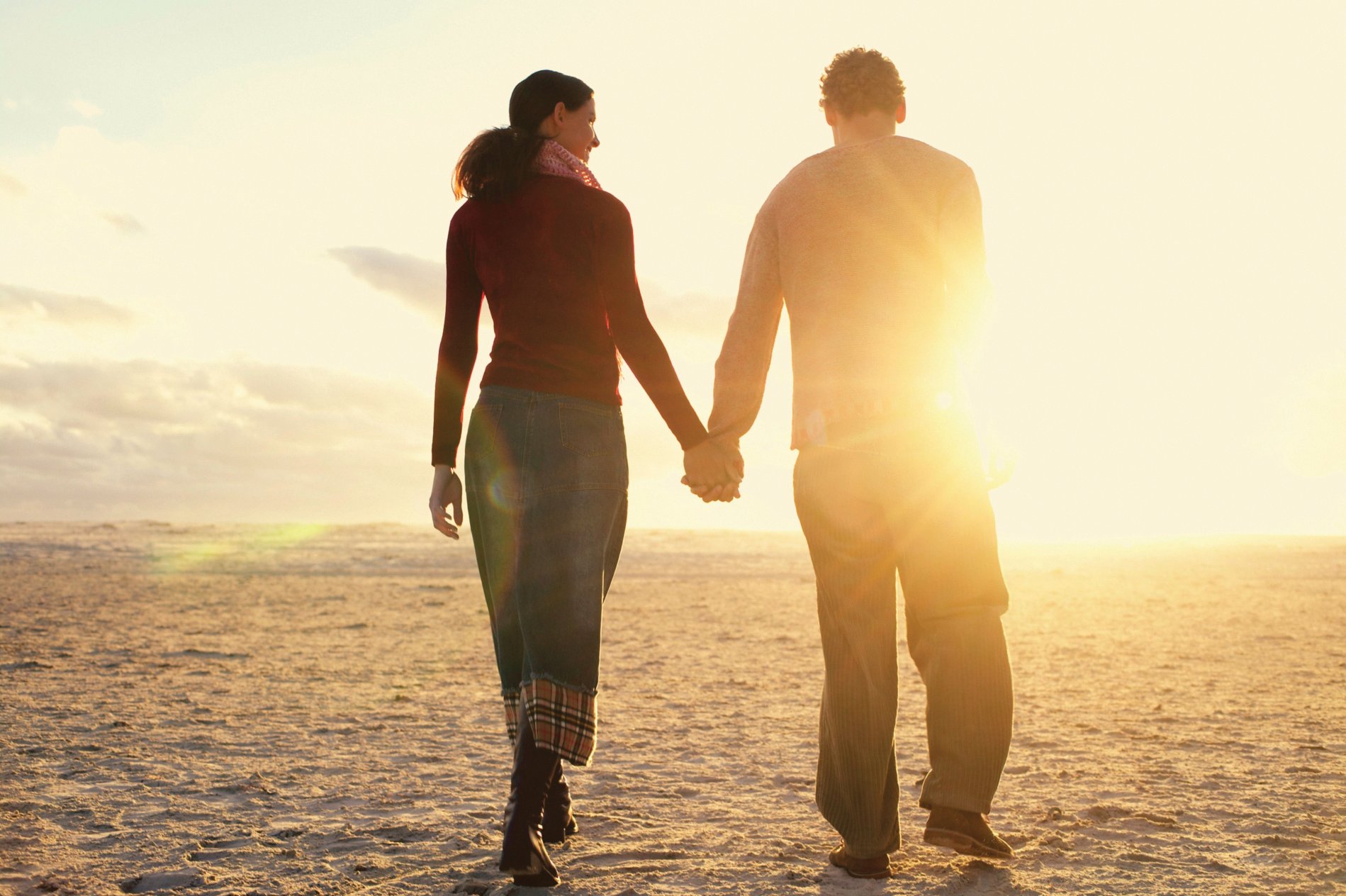 The Akashic Records tell us that soul partnership is a wonderful tapestry of textures and colors, lifetimes of commitments to a mutual cause of love.  We simply cannot have one soul mate and make our way through life learning all the things we set out to learn.  It starts with our immediate family and then branches out into our network of friends, acquaintances, and lovers. It takes a wonderful hodgepodge of
Soul Family
to accomplish a lifetime of lessons.  So in a nut shell, you have already met many soul mates! Know that there is not one singular Soul Mate for you, but a wonderful committee of Soul Helpers that signed up to share this life experience with YOU!
I will probably have to devote an entire series to the romantic partnership. The endeavor to find love lies in the first shaky steps of the now.  It is a real leap of faith to begin the journey so let the journey begin with an act of intention. Your higher self and your circle of guides are anxious to help you; but in everything spiritual, there needs to be focused intention on what you are attempting to accomplish.  A loving discussion about love with your spiritual guides may be just what the doctor ordered. State exactly what you want, and give the universe momentum.  Set the intention of finding romantic happiness, then get ready for the real work!  Believe me, it's worth it!
If you would like to know more about finding happiness in love, or if you want a spiritual check in on your love life, feel free to contact me and schedule a consultation.  I would love to be of assistance as you find clarity on your path. 

/