Shopping Cart
Your Cart is Empty
There was an error with PayPal
Click here to try again
Thank you for your business!
You should be receiving an order confirmation from Paypal shortly.
Exit Shopping Cart
Shamanic Healer and Psychic Medium in Louisville, Kentucky
Many people ask  me who their guides are during a reading.  Most of the time, I connect with guides clairvoyantly, meaning I see them.  I can describe them, and even what they are wearing and where they are from; However, often there is no name.  More often than not, guides are happy to take a name that resonates with their charge. For example, once I was giving a Akashic Consultation for a group of sisters.  One asked me the name of her guide and the name  "Hank" popped in.  They all immediately broke out into peals of laughter! It was revealed to me that "Hank" was the name they had christened the statue of a deer in her back yard. They would all pat Hank's head each time they visited.  This was a humorous way for the woman's guide to provide her with a name and validation that he was with her.   The lesson for her was that the name was not as important as the presence.
Because Guides are spirit, they appear to us in forms that we understand.  They are a form of light and vibration.  It is our humanity that must assign a title and a face.   They take the form of energetic symbolism in which we are comfortable with connecting.  The best way to connect with your Guide's name is to ask it!  The two of you can come up with a title that your find appropriate and that you  both resonate with.  It may be a name in which you new from a past life you shared with the guide or just a name that contains a vibration that resonates with the needs of your soul. 
If you would like a consultation to help you connect with your guides, contact me.  I would be happy to assist you on your journey.
Find me on Facebook!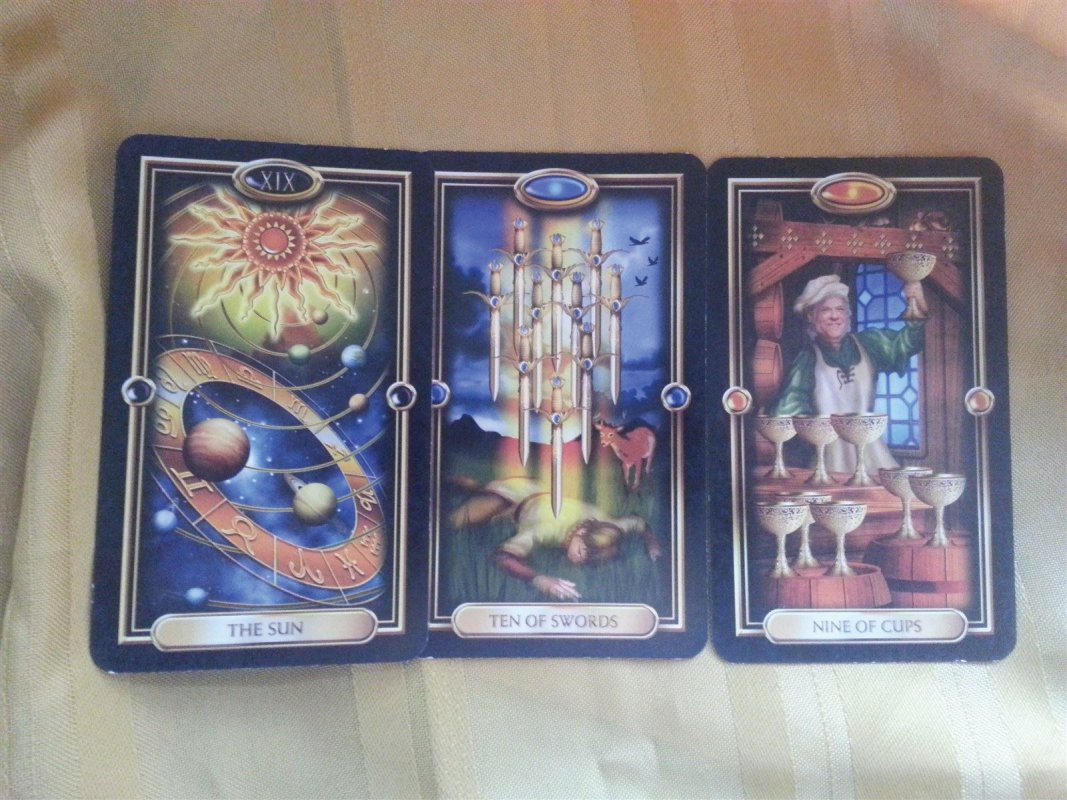 Good afternoon, folks, hope your weekend was a beautiful one!  Here is This week's forecast.  The beginning of the week mirrors how beautiful it truly is outside! It has been a truly spectacular autumn day!  The Cold is supposed to move into KY, so it has been a bittersweet day indeed!  When I see this card, I am reminded as well as the Rider Waite Deck picture, which as well features a child.  Enjoy this moment, this now...We always want to rush headlong into the next moment and the time is indeed now!  like childhood, life this moment will be a memory.  Humans spend far too much time desiring that next best thing when the next best thing is the now!  Gratitude for gifts is the message of The Sun Card in this particular draw.  Enjoy the journey with a grateful and joyful heart! 
We move into midweek and find ourselves deep into the Ten of Swords.  Things have gotten a little uphill, which tends to happen in November.  This is a warning to slow it down!  I can't help but notice that there is already Christmas advertisements out pushing the beginning of a shopping season.  This is creating a general fervor among the population to get things started before time runs out.  The energy in general is getting a little freaky lately! Don't get caught up in the whirlwind that others have created.  YOU are in complete control of your own destiny.  Like the deer in the background, this is a time to step back from the general population and observe without engaging and without judgment.  Therein lies your freedom. 
And finally, the weekend comes to us! I LOVE the Ten of Cups in this deck!  Here is a man who is emotionally and physically fulfilled inviting the viewer to join him!  If you did your homework, you should move out of the Harry Scarey midweek just fine and into a joyful weekend.  On a side note, I just did a reading for a lady and sharing her cooking talents came forward. Her guides gave her the message to share her gift came with others.  How significant it is to teach a person to cook.  When we teach a person to cook, to really cook, we teach them to LIVE!  Enjoy your your abundance and your talents.  And share them.  That is how the world goes round.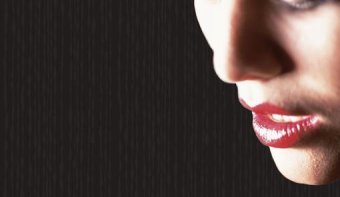 During a reading today, a woman repeatedly asked me if her business venture was going to fail or if her husband was going to leave her when she went away on business.  All aspects of the reading were positive.  Here husband was a solid, stable personality.  She was a person who was greatly organized and one of those gifted people who had the ability to make her ventures successful.  Her issue?  The heart of the matter was herself! Each time I did a spread for her, the outcome was good, but the possible blocks were her own fears and insecurities.  Will her relationship fail her?  If her husband has his choice, no!  However, there are issues within herself that were going to stand in her way.
I am going away and my husband will leave me because of thi
s  is a mindset that was not going to serve her marriage.  Instead, her guides suggested she focus on trusting her husband's stability and the gift of his support.  They suggested she use words to speak the truth of her successful relationship and her savvy business skills.
Often, we can vastly improve our situations by minding our own words.  This is a well known psychological term coined Self-Fufilling Prophecy.  In a nutshell,  self-fulfilling prophesy translates words have power. Tell a child he has issues with reading, and he will struggle with reading!  Want to succeed?  Stop  second guessing yourself! Take a look at the way you talk to yourself, and there you might just find the root of your struggles. Manifestation is empowered by belief and trust.  A simple change of thinking from I'm not sure if I made the right decision to I am competent, successful business woman can make all the difference in the world.  Granted, to reach this point, many of us have to go through a great amount of work and healing.  However, taking the step to change your thoughts and words-even if you do not yet believe your new positive language-is an excellent first step toward manifesting your bright future.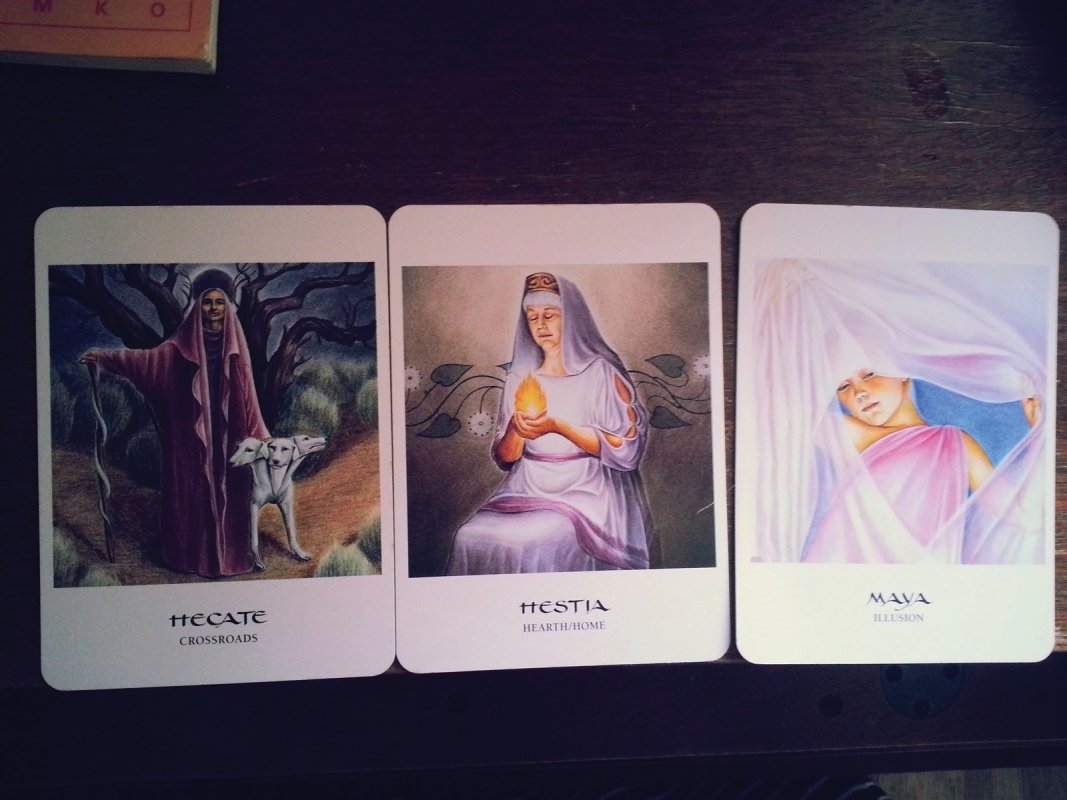 First I want to thank all of you for you're thoughts, prayers and healing energy for my friend.  She pulled through surgery with flying colors! 
This week's draw is from The Goddess Oracle.  I truly love this oracle and it carries a very profound energy :-) 

Monday-Hecate.  LOL.  I love this deck, but I didn't want to pull a darker card for all of you.
 Spirit doesn't always give us what we want, Spirit gives us what we need!  Hecate is said to have traveled to the underworld to retrieve Persephone for Demeter.  I think I would like to have a Grandmother as bold as Hecate on my side and all of you would do well to honor the wisdom she offers here.  Hecate stands under the New Moon to invite you to see your shadow self with open eyes.  Your  indecision is not serving you.  It's time to do some shadow work and look at yourself pragmatically.  By pragmatic, I mean without judgement.  Shadow Self does not respond to judgement and avoidance.  That will only stir her up.  Look into her eyes with compassion.  There is a reason she is there and connecting with her will help you get to the root of you indecisiveness, allowing you to reach a decision and move forward.   
Hestia joins us midweek.  Hestia wants you to attend to your home.  This is a connection to loved ones clamoring for your attention.  The last few weeks have been filled with much soul work and it's time to give others the attention they need.  For people with dogs, this is very important as I have a clear vision of some chewed up items.  Attend to needs to avoid chaos!  Midweek calls us to bake (or buy) some cookies and enjoy some family time.  If you live alone, then rent a favorite movie for yourself.  It's time to defuse in an enjoyable way.
And the  card for the weekend is Maya: Illusion.  This is a card of perspective. All that seems so important now, really isn't.  Allow yourself some much needed freedom away from stress.  This earth ship ride isn't about a perfect house-literally and figuratively.  It's about the ride.  We are here to learn and experience.  There is so much more than the here and now!  It's time to get out of the box and live it! I'm sure that you are asking me the question I hear most: "Well what is It all about!?!"  See the pink in the picture?  Start with your heart and the rest will follow.
I hope you have a wonderful, Love filled week!  It will be an enlightening one, I know :)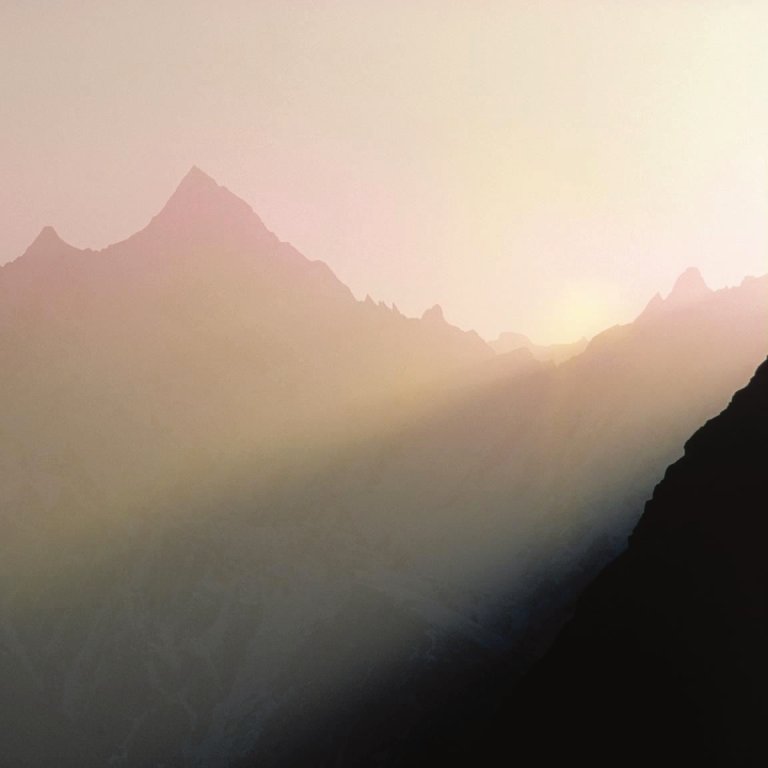 I found this when I was cleaning out my desk, No date or name attached.  It was a message from the Record Keepers. Sometimes words meant for one are meant for many.  I would also like you to take note of the British spelling of" moulded."  I am American and would have spelled it molded. These, my friends, are not my words and I take no credit.
"Sweet Child of mine, know that your way on this divine journey is simply the best way for you.  You know your path and it is, my child never simply point A to Point B, but a series of adventures and calamities moulded and planned exclusively for You! Enjoy it, it's yours!"
If you would like to schedule an appointment with your Record Keepers, feel free to contact me anytime!  Have a beautiful, adventure adventure filled day!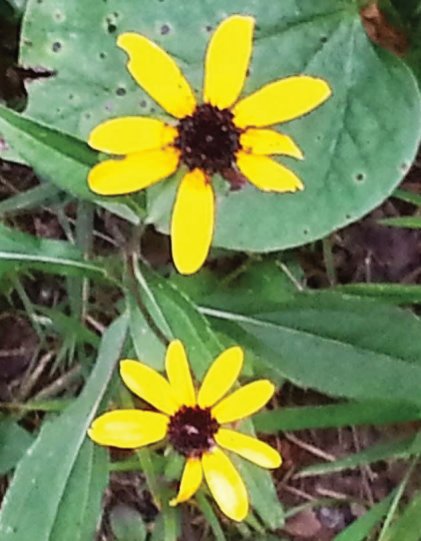 This weekend, At The Festival of Healing and Spiritual Awareness, in Elizabethtown, KY, I was enjoying the beauty of the arboretum next to the Pritchart Community Center and pondered about how I would love to share the healing that nature has given me with my clients.  For centuries, shamans have connected with nature in their healing practice, and that connection is never needed more than now!  So let's put away our cell phones and our i pads and come together Creators presence to explore our authentic selves.  Walk with me and together, we will gather the healing allies for your healing session.   There is no greater healing than the sun opening our crown chakras to let the light in <3 When you contact me for a consult, just let me know that you would like a nature consult and be ready to open your heart.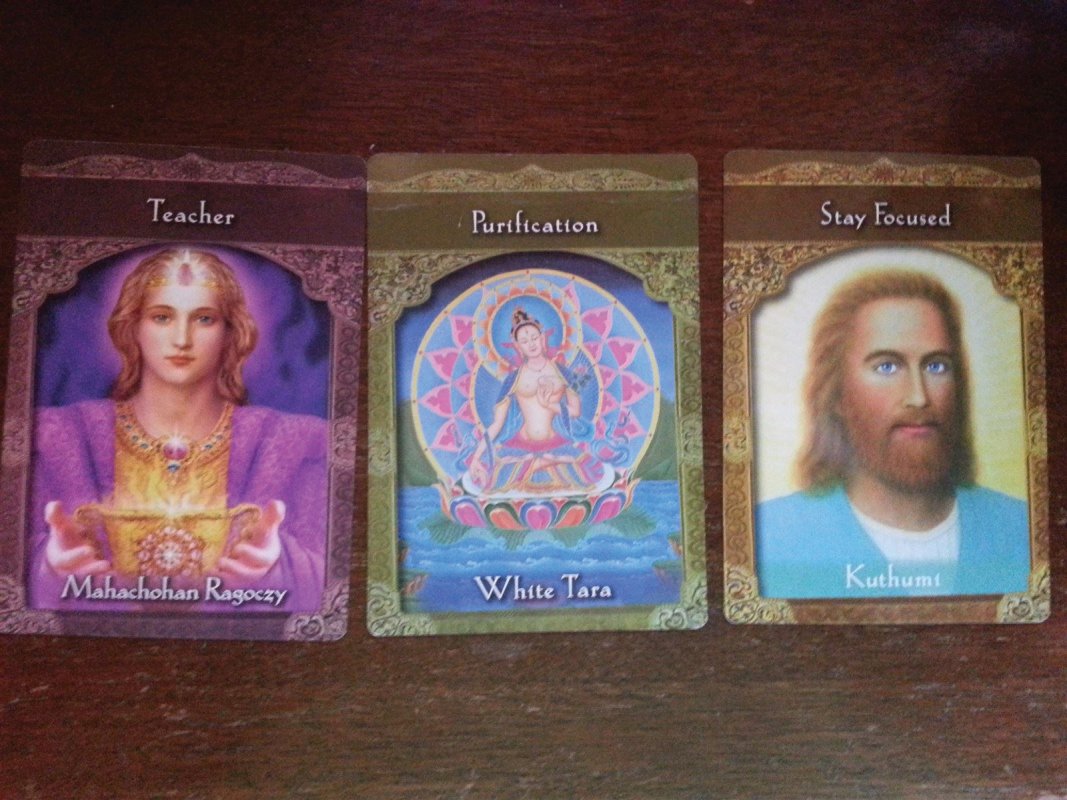 Good Morning!  Today I have the weekly card draw with the Akashic Records on July 14, 2014.  I need to start doing these on Sunday Morning!  This is from Doreen Virtue's ascended Masters Oracle Cards.
We start the week out with the card  "Teacher."  In this context, the card is referring to your inner teacher. Take that time out of your busy schedule to connect to your higher self! The Record keepers are noting the deep purple in the card, making a reference to The Third Eye.  The affirmation for this is "I see and know my own truth."  I got the message that there is much inner child work going on.  Are you caring for your inner child?  Listen to what this child has to say.  He/She has an important truth for you this week!  
The Second card is "Purification."  With all of this work going on early in the week, it comes to no surprise that we find ourselves needing to focusing on cleaning ourselves out!  Are you drinking clean water?  Maybe tap water is not what you need!  Make sure you filter your water or drink spring water to cleanse out your body.  Pay attention to your diet! Good wholesome foods, fresh fruits and vegetables are needed to support all of the Lessons learned during the earlier part of the week.
We finish up the week with the card "Stay Focused."  It's been a tiring week, and if you are doing the work that is suggested at the beginning of the week, you may be finding yourself a little tired; especially if your inner teacher has uncovered some very sensitive issues!  Stay with it! The week is almost over.  They want you to continue the work at hand.  Also please be mindful of making mistakes due to fatigue.  Pay attention to how much rest you are getting as emotional and physical fatigue can affect your ability to make decisions and stay on task.  Stay present to avoid mistakes in your everyday life!  
Folks it's going to be a busy week for you, but the weekend is coming!  
Today our guides want to talk about focusing  intentions.  Now that it's Saturday, many folks are thinking about sleeping in and lazy summer afternoons.  Tonight, however, is the night of the super moon.  The element of the full moon is a time of cleansing and charging.  The super moon amplifies the energies of this.  The end result is time to clearly move forward with your intentions and do the work today to ignite the way for the coming months.

This moon is about cleansing, whether one is aware or not.  Prepare for it.  It's going manifest a great amount of emotion in the world around.  The energy of the super moon is igniting a fire and issues that need to be recognized are coming to surface; emotions are running high. People are going to be very edgey.  Show some compassion to irrational outbursts (within reason) from the general public.  You may run into a frustrated cashier and please be highly aware of other drivers while on the road. Staying focused and aware will help you to successfully navigate the energies this weekend without being pulled into the frenzied energies of high emotions. 

Now is the time to gather your resources.  Call on your guides and power animals.  Do your spiritual homework.  Devote some time meditating.  If you drum, sound your drum.  Drum for the healing of all around to ease emotions and increase awareness.   Ask that spirit help you to focus yourself so you can heal and release the things that no longer serve you.  When you move with intention, you will feel mor centered and less overwhelmed. Set your intentions for the month ahead.  It's a good weekend to get out in nature and put your bare feet on the earth.  Doing so will help ground you and will connect you so you can fully experience the beauty of the super moon.
Follow me on Facebook!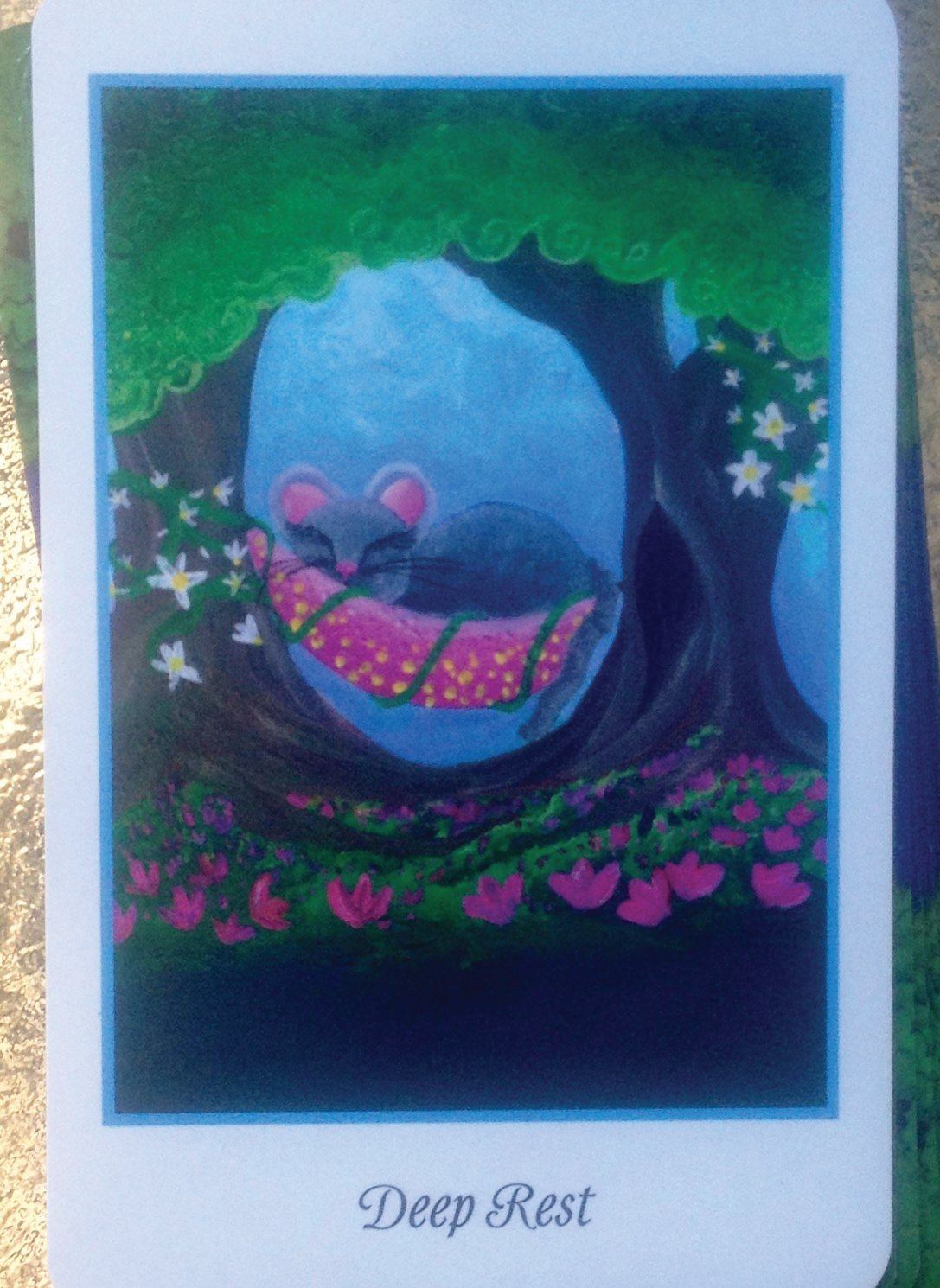 Good morning wonderful souls!  Today's card pull is taken from Higher Intuitions Oracle.  In the United States, we celebrated our Fourth of July Independence Day, so when I picked this card, I asked the Akashic Records to choose a card that was of the highest good to all concerned.  The Record keepers have always had a sense of humor, and this card is a bit of a point toward the over celebrating that occurred and is occurring over the long weekend. Time to take it down a notch and refuel your body and soul.  Drink plenty of fluids, and get some good sunshine.  You will soon feel ready to face the world. 
United States holiday aside, this card speaks deeply to me today heart chakra work.  it is time to slow down a little and give yourself some much needed attention.  Last week was especially testing for many and the time has come to nurture yourself and let the needs of others be set aside!  They can wait! The people for whom this post is meant are stretching themselves thin tending to everyone but  themselves!  The time is now to work on that self care!  If you do not feed yourself, you will not have the energy to serve others.  Take a look at your heart chakra and ask it what it wants you to know.  The Record Keepers want you to release any beliefs systems that you are not worthy of some well deserved time to yourself <3
Like me on Facebook
I work at an office in the evenings that delivers  messages to military members who have family emergencies.  Sometimes, hunting down these military members can be a daunting task, taking hours of work.  When I call the military in Far East, and the operator says they have found the service member unit, to please hold the line while they contact command,  The recording repeats every half of a minute or so...

"Please hold the Line."

I have learned to love that recording because it means an end to a daunting task is at hand.  I am waiting for the receiver of my message, a completion to a task.    Sometimes in our own life, we are asked by spirit to hold the line.  If we let go, we lose momentum and have to start right back over again.  It feels as if we are in limbo, but it reality, the answer is on its way!  This is indeed,a practice in patience, because we all want our answers Right Now!  Holding the line means that we continue our connection to spirit-holding the line means the answer is on its way soon, don't give up!  Today, be thankful for connection to source.  Know that in time, all will be answered, Please hold the line.
Like me on Facebook!

/